Darth Vader, Chewbacca present ex-Georgian prez Saakashvili with BBQ tools (VIDEO)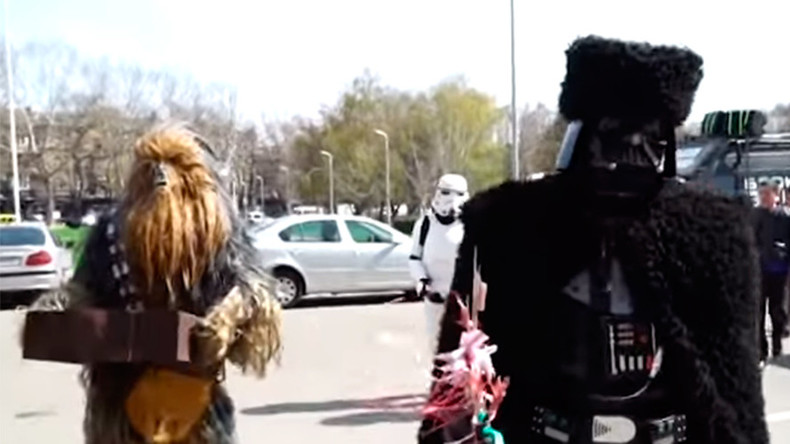 The men dressed as Star Wars iconic characters, Darth Vader and Chewbacca, have presented the Ukraine's Odessa Region Governor and former Georgian President, Mikhail Saakashvili, with a set of skewers and a grill as an April Fool's Day gift.
"I decided to present such a gift to the governor of Odessa region, so that he could cook his shashlyk (barbecued meat popular in Georgia and other nations in the Caucasus) right at the reception desk without distracting from his duties," Darth Vader explained.
The skewers were decorated as bunch flowers, while the grill was unique, "made of the metal from the Tunguska meteor," the giver explained.
Darth Vader, a veteran of Ukrainian politics, was accompanied by a man dressed as another Star Wars character, Chewbacca, and several storm troopers.
The Sith Lord's entourage performed performed the traditional Caucasian Lezginka dance in front of the mayor's office.
However, Vader was unable to personally hand his gift over to Saakashvili as the security refused to let him into the building.
Eventually, he had to leave the shashlyk making tools in front of the entrance to the mayor's office and retreat.
Darth Alekseevich Vader, who actually changed the name in his passport to take on the Star Wars villain's alias, has been representing the Internet Party of Ukraine for years.
He ran for several elected offices, including president in 2014 and Odessa City Council last year.
The biggest hurdle in his career has been the legal demand to remove his iconic black mask and show his face for identification purposes, which he couldn't fulfil.
Saakashvili became governor of Odessa Region back in May 2015, receiving the Ukrainian citizenship under personal decree of Ukrainian President, Petro Poroshenko.
READ MORE: Ukrainian petition suggesting Lord Vader for PM to be considered by president
The ex-president is wanted in Georgia for embezzlement, abuse of power and politically-motivated attacks.
You can share this story on social media: