Scuffles & tear gas: Protesters clash with police during anti-labor reform rally in Paris (PHOTOS)
Published time: 1 Apr, 2016 09:38
Edited time: 1 Apr, 2016 10:49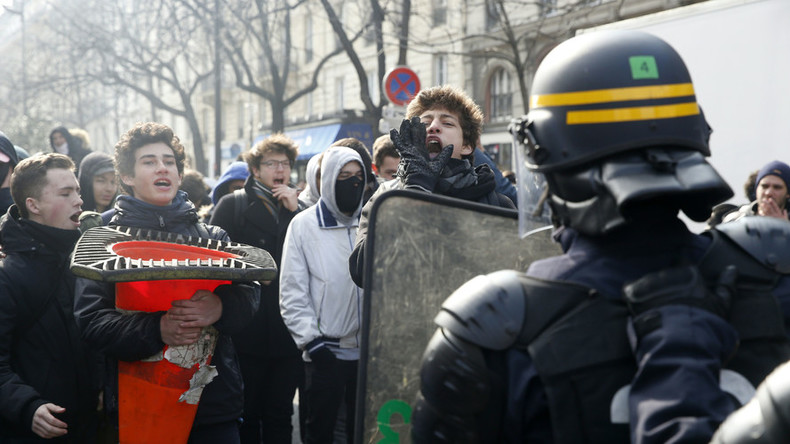 Police have deployed tear gas against demonstrators in Paris, who have taken to the streets of the French capital. The activists have been rallying against recently proposed labor reforms since the beginning of March.
The protest started on Place de la Nation, the same spot where previous anti-labor rallies took place.
Police officers are trying to block the demonstration, according to YouTube videos. "Let us go" the protesters shouted at police officers who were using tear gas on them.
Police sirens have been heard during the protest.
"We are angry" read one of the banners displayed during the demonstration. The demonstrators have also been shouting: "Everyone hates the police."
"Come together, Come together, this is a protest," the demonstrators shouted.
Several loud bangs of unknown origin were heard during the rally.
Students have been repeatedly rallying against labor law reforms recently proposed by Labor Minister Myriam El Khomri. The French authorities are desperately trying to battle high unemployment in the country, and have suggested cutting overtime pay for work beyond 35 hours.
The proposed reform states that employers would pay only 10 percent of overtime bonus, instead of the current 25 percent.
A Facebook community called 'Loi travail: non, merci'(Labor reform: No, thanks) is organizing the demonstrations across France. Arguing that the reforms concern all French citizens, the group has started a petition, which has so far been signed by over one million people.