London 'tries to downplay' Damascus and Moscow's role in liberating Palmyra – Russian FM spox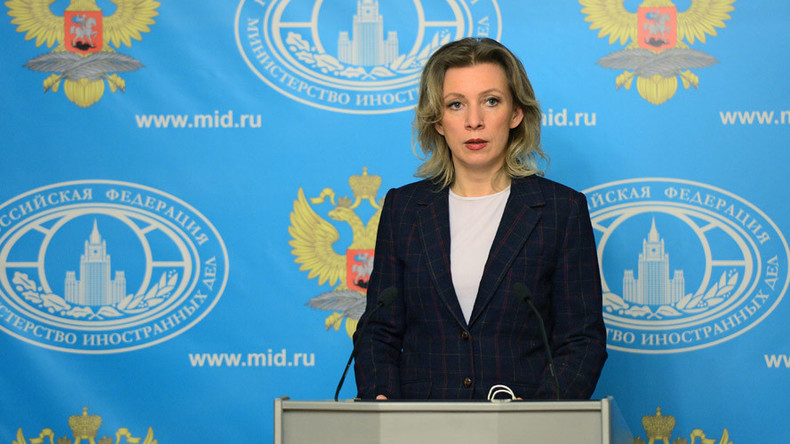 Moscow is disappointed to see that some Western countries refuse to salute the retaking of the Syrian city of Palmyra from Islamic State (IS, formerly ISIS/ISIL) and questions their true goals in Syria, the Russian Foreign Ministry spokesperson said.
The reaction coming from some western countries following the defeat of Islamic State in Palmyra by Syrian government forces with help from Russia was muted or outwardly dismissive, Maria Zakharova said in a weekly briefing on Thursday.
She singled out UK Foreign Secretary Philip Hammond, who basically said that Russia was not good enough to fight terrorists alongside Britain.
"I have no doubt that Russia is sincere in its desire to defeat Daesh [the Arabic name for IS] in Iraq and Syria," Hammond told Reuters on Wednesday. "But we need to work together on these things and we can only work in partnership with countries which accept the international rules by which we all have to live. We can't be working in partnership with a country one day and find that it is doing just exactly whatever it wants."
"The British reaction was quite specific. What we saw is an attempt to dismiss the part played by Damascus in fighting terrorism and, by extension, by Moscow, which is supporting the Syrian government in their fight against terrorists," Maria Zakharova said.
She added that the government line was toed in the UK by the mainstream media, which jumped to speculate how much damage Russian airstrikes could have done to Palmyra's historic legacy during the operation and how miraculously they haven't.
Another example of the same narrative came from the UN Security Council, where a Russia-proposed statement intended to welcome the liberation of Palmyra from ISIS was blocked by some members, Zakharova said.
"That was something new," she said, adding that apparently the West "is not interested in liberating Syria from the terrorists."
READ MORE: Military advisers, 2K pinpoint airstrikes: How Russia helped free Palmyra from ISIS
"It's a game of geopolitics. All this surprised and disappointed us," the spokesperson said.
The ancient Syrian city, which was captured by Islamic State in May 2015, was liberated by Damascus this week after a 20-day operation. The Russian military delivered strikes at over 2,000 targets while providing air support for the Syrian army, a top Russian general reported on Thursday.
You can share this story on social media: