Military advisers, 2K pinpoint airstrikes: How Russia helped free Palmyra from ISIS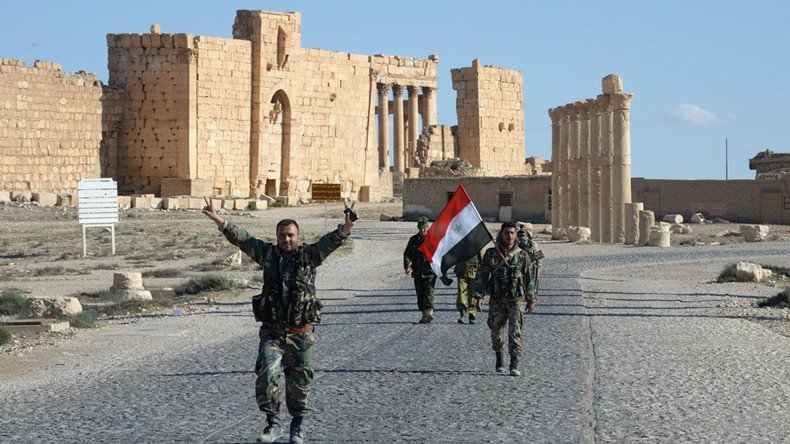 Russian military advisers played an "active" role in planning the operation to free the ancient city of Palmyra from jihadists, while over 2,000 airstrikes conducted to support Syrian ground troops did not damage a single historic structure, Moscow says.
The entire operation to liberate the UNESCO World Heritage Site from Islamic State (IS, formerly ISISL/ISIS) militants took 22 days, starting on March 6 and ending on March 27, Lt. Gen. Sergey Rudskoy, head of operations at the Russian General Staff, reported on Thursday.
"Between March 7 and March 27 the Russian Air Force supported Syrian government units near Palmyra, conducted around 500 sorties and delivered over 2,000 airstrikes against ISIL," he reported.
He stressed that "no structure of historic value in Palmyra was damaged by the Russian Air Force."
Russian military advisers "took a direct and active role in planning the operation," Rudskoy said.
Russian warplanes helped Syrian artillery and air forces suppress the defenses of the city, which IS had turned into a fortress since capturing it in May 2015. The militants had considerable strength and prepared an elaborate system of fortifications, the general said.
"By the beginning of March the militants had over 4,000 fighters, at least 25 tanks and infantry fighting vehicles, over 20 artillery pieces and rocket launchers, over 50 mortars, some 100 guided anti-tank missile launchers, over 50 off-road cars with heavy weapons mounted on them. The terrorists also had more than 10 trucks rigged with explosives and manned by suicide bombers and a number of drones," he said.
Russian airstrikes helped destroy main artillery positions and fortified bunkers on the hills surrounding the city, Rudskoy said. They were also involved in preventing any reinforcements from arriving in Palmyra or any terrorist forces leaving it.
"Russian warplanes destroyed militant convoys trying to storm through towards Palmyra from Raqqa and Deir ez-Zor every day," he said. "When scattered gangs of ISIL managed to get out through the encirclement, Russian warplanes destroyed them before they could flee to Raqqa and Deir ez-Zor."
The capture of Palmyra, a strategically and symbolically important city in central Syria, was a major achievement for Damascus. The city's control over a number of important roads connecting northern and southern parts of the country means that IS will now have trouble transporting weapons and fighters across Syria. It was also an important source of income for the terrorists, who will now have fewer resources to buy new weapons and pay their fighters, the general said.
You can share this story on social media: