Not feeling the love? Turkish media accuse Twitter of censoring top trending Erdogan hashtag
Published time: 30 Mar, 2016 13:17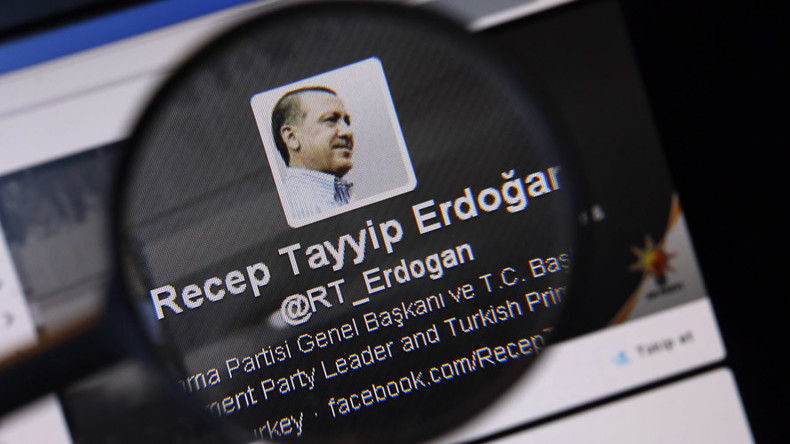 The Turkish president's visit to the US sent Twitter into overdrive, with the #WeLoveErdogan hashtag quickly becoming popular. But it suddenly disappeared from the trending list, leading Turkish media to suspect it had been removed by the microblog's administration.
President Recep Tayyip Erdogan's popularity on Twitter was said to have experienced a sharp surge on Tuesday night – at least if the hashtag #WeLoveErdogan is anything to go by. It had scored over 171,000 tweets by 21:00 GMT, Anadolu Agency reported. Other media, such as Daily Sabah, claim the number surpassed half a million messages.
Suddenly, however, the hashtag – which was tweeted by several cabinet ministers and ruling party members – disappeared from Twitter trends.
"Supporters of President Recep Tayyip Erdogan started a hashtag on Twitter late Tuesday which said 'WeLoveErdogan,' but the San Francisco-based social media giant censored it just a couple of hours later," writes the Daily Sabah, adding that Twitter did so "without specifying any reasons."
Ironically, while many tweets featured slogans such as "Benim ulkem, benim liderim" (My country, my leader) or "Türkiye daima liderinin arkasında duracak" (Turkey always supports its leader), others used the hashtag to vent their frustration.
The hashtag vanishing from the trending topics caused a few ripples, namely in the form of the #WeStillLoveErdogan and #TwitterCensoredErdogan responses.
As of yet, Twitter has not commented on the incident.
The Turkish president's relations with the microblogging service have had a hint of controversy in the past. When prime minister back in 2014, Erdogan initiated a block on Twitter, promising to eliminate the social media platform.
"We will wipe out Twitter. I don't care what the international community says," Erdogan said at the time. "They will see the Turkish Republic's strength."
The ban was lifted by the Constitutional Court two weeks later following its ruling that the block violated freedom of speech.
Facebook and YouTube in Turkey have also suffered similar attacks in the recent years for the same reason.
READ MORE: Turkey blocks Twitter after PM threatens to wipe it out