El Salvador declares state of emergency at 7 jails over gang violence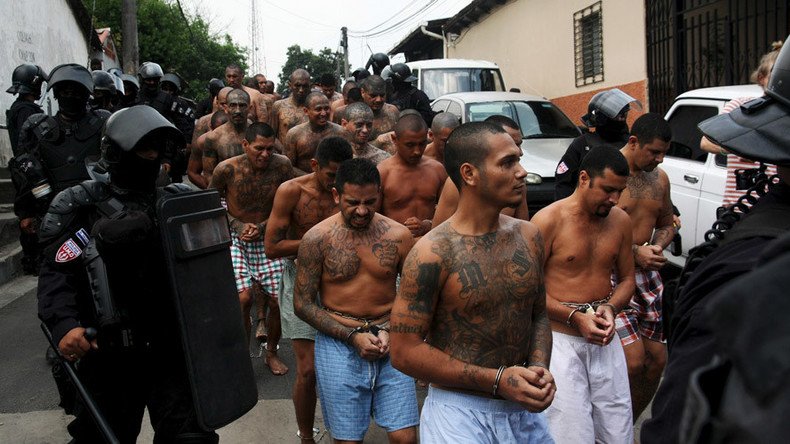 El Salvador has declared a state of emergency at seven prisons and sent some 300 top gang members to a separate jail. The country has pledged to take "extraordinary measures" against gangs, and it's the first step, they say.
The emergency means that the prisoners are in lockdown, with no visits from relative allowed for 15 days. Also, security will be managed by both police and soldiers.
"They are going to be subjected to a higher security regimen, with greater control to make sure communication from inside the prison system is stopped," Mauricio Ramirez Landaverde, the minister of justice and public security, said at a press conference.
"They have been identified as those most involved in communicating with the outside, in directing and coordinating illegal activities of the criminal groups."
The government said they'd announce initial "extraordinary measures" to the parliament on Wednesday.
Presidential spokesman Eugenio Chicas said they could impose hefty fines on phone companies that refuse to lower cell phone signals in the vicinity of prison facilities.
Chicas added that these measures would "guarantee the population's security and be a hard hit against criminality," he said as cited by AP.
Over the weekend, a video message emerged showing masked men claiming they represented El Salvador's three most powerful gangs. They urged their fellow members to stop the violence.
In exchange, they demanded that the government doesn't act on their pledge to fight the gangs.
The latest news comes a few weeks after the country's President Salvador Sanchez Ceren said the authorities are going to do battle with gang violence.
El Salvador is notorious for gang violence: its capital San Salvador was named the third most dangerous city in the world in 2015, with around 108 homicides for 100,000 inhabitants. The ranking was published by the Mexico Citizens Council for Public Security, featuring 41 cities from Latin America and 21 from Brazil.
You can share this story on social media: