5,000 detained in Pakistani counterterrorism crackdown after Easter bombing in Lahore
Published time: 29 Mar, 2016 16:11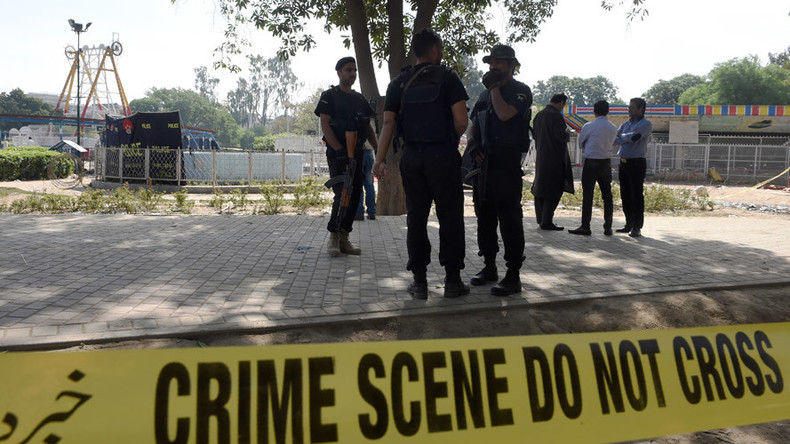 As part of a promised crackdown on Islamist militancy, Pakistani authorities have conducted at least 160 raids since a suicide bomber attacked crowds visiting a park in Lahore on Easter Sunday, killing over 70 people, most of them women and children.
A total of 5,221 people have been rounded up during the operations, of which 5,005 were released after data verification, DawnNews reported.
Investigators were keeping 216 suspects in custody pending further investigation, Rana Sanaullah, a state minister for Punjab province, said.
"After further investigation we will know more about them," he said, adding that "if someone is found to be guilty they will be charged," Reuters reported.
Sanaullah said the raids were carried out by a mixture of police, counter-terrorism and intelligence agents, adding that "all law enforcement agencies" would be used in future operations.
Pakistan has been plagued by a spike in violence and insurgency since it joined a US-led campaign against Islamist militancy after the September 11, 2001 attacks on the United States.
Taliban faction Jamaat-ul-Ahrar, which once declared loyalty to Islamic State and has carried out five major attacks in Pakistan since December, reportedly issued a new threat on Tuesday, this time singling out Pakistani media.
"Everyone will get their turn in this war, especially the slave Pakistani media," Ehsanullah Ehsan, spokesman for Jamaat-ur-Ahrar, reportedly tweeted. "We are just waiting for the appropriate time."
Jamaat-ul-Ahrar claimed responsibility for Sunday's suicide blast, saying it was targeting Christians. Pakistan, a majority-Muslim state, has a Christian population of over two million.
Despite the Taliban statement, senior police official Haider Ashraf told AFP that "the target was not the Christian community in particular," adding that Muslims were also among the dead. Leading human rights activist Hussain Naqi branded the statement a "cover-up" saying the government was "trying to downplay the incident to hide its own failure at protecting Christians and minorities."
Sunday's blast was the latest in the "long history of persecution of Christians in the country," according to the police official.
The blast on Sunday was the deadliest attack in Pakistan since the December 2014 massacre of 134 school children at a military run academy in the city of Peshawar. At least 72 people were killed in Lahore on Easter Sunday, nearly half of them children, AFP reported.
In the wake of the attack, the Punjab government declared an emergency in Lahore (the capital of Punjab, Pakistan's richest and most populous province) and announced three days of mourning. In a televised address to the nation Prime Minister Nawaz Sharif has promised to punish the extremists.
"I am here to renew a pledge that we are keeping count of every drop of blood of our martyrs. This account is being settled, and we will not rest till it is paid," Sharif said.