Law to stop domestic violence un-Islamic - Pakistani clerics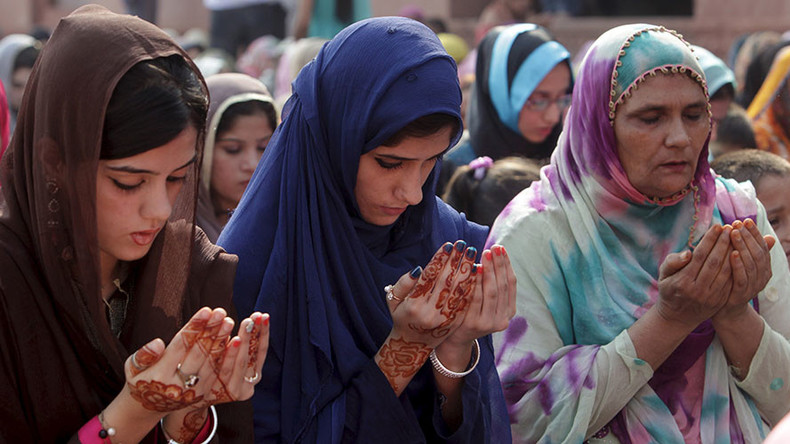 A new law protecting women from abuse in domestic situations has been denounced by at least 35 religious groups in Pakistan.
The Muslim bodies, made up entirely of men, called on the government in their country's largest province, Punjab, to reverse the law, calling it un-Islamic and part of a Western conspiracy to destroy Pakistan's constitution.
The Women's Protection Act was passed in February to safeguard women from domestic, psychological, and sexual violence. Along with setting up a free helpline, women's shelters, and local panels to investigate incidents of abuse, the law also calls for offenders to be tracked with GPS bracelets.
Women's groups have hailed the law as a progressive step, while conservative clerics said it goes against the Quran.
A joint statement from the religious groups said the new law aimed to "add to the miseries of women", and called on the government to retract the bill.
"This controversial law to protect women was put into operation to accomplish the West's agenda to destroy the family system in Pakistan," it read.
Maulana Fazlur Rehman, conservative leader of Jamiat Ulema-e-Islami (Assembly of Islamic Clerics), said the law contradicted Islamic teachings.
"The government is making public only sugar, and hiding the poison of the law," he said during a press conference.
Rehman previously made bizarre comments about the law, stating it would make "a man insecure" and accused the government of making a "Western colony again", according to the Independent.
Ironically, in the US, the country that perhaps best symbolizes the west, which is demonized by these Pakistani clerics, conservative Christian men also oppose domestic violence prevention laws.
Some 22 Republicans senators voted against reauthorization of the Violence Against Women Act three years ago because they opposed extending the act to same-sex couples and undocumented individuals.
In Russia, domestic violence is not recognized as a separate criminal offence, instead mostly being classified as battery or infliction of light injury. Few cases result in convictions, because few victims report them to police.
However, the country's Council for Human Rights has submitted to President Vladimir Putin a domestic violence prevention bill, that would attempt to stop incidents occurring in the first place, not simply dealing with them after the fact.
You can share this story on social media: