Don't speak German? No residency: Berlin says refugees must integrate in order to stay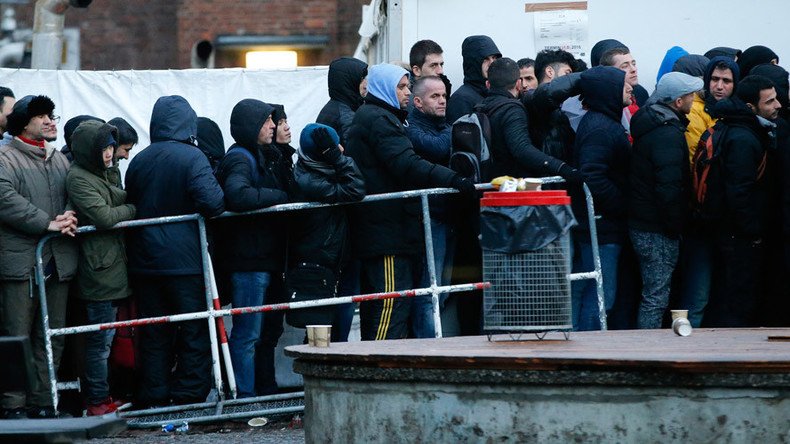 Refugees in Germany could lose their permanent right to residency if they fail to learn German and integrate into society – that is, if a new draft law proposed by German Interior Minister Thomas de Maiziere is put into practice.
Around one million asylum seekers arrived in Germany in 2015,according to government officials, while de Maiziere believes a further 100,000 have arrived in the country since the New Year. Germany is seen as an attractive destination for refugees due to its perceived generous benefits schemes. However, the German interior minister says he wants to see refugees contributing to society.
"For those who refuse to learn German, for those who refuse to allow their relatives to integrate – for instance women or girls – for those who reject job offers: for them, there cannot be an unlimited settlement permit after three years," he told ARD television, as cited by Reuters.
Vice Chancellor Sigmar Gabriel welcomed the draft law, which is planned for May.
"We must not only support integration but demand it," Gabriel told mass-selling daily Bild, according to Reuters.
The proposed law may put to question the existing UN legislation stipulating that a person with the legal status of a refugee cannot be deported except for cases in which he poses a threat to national security or public order, which itself is to be decided in court. Therefore, the current provision of the UN law regarding refugees should be reconsidered, de Maiziere said, according to ARD.
De Maiziere is part of Chancellor Angela Merkel's ruling conservative coalition, which suffered during local elections in March, with the electorate becoming disillusioned at her open-door refugee policy.
However, Horst Seehofer, the leader of the Christian Social Union (CSU), the Bavarian sister party to Merkel's Christian Democrats (CDU) said that the federal government had changed its policy regarding refugees.
"There has been a creeping withdrawal from the unconditional welcoming culture. Despite the images from the Greek-Macedonian border no German politician today says: 'The borders are open, let everyone come to Germany'," he said on March 20, as quoted by Reuters.
In January, Austria's Foreign Minister Sebastian Kurz said that refugees who refuse to attend special integration training courses as a part of a new program may see their social benefits cut.
"Those who are not willing to learn German, who do not want to be part of the labor market, who are not ready to attend an integration course, will face social benefits cuts," Kurz said at the economic forum in Davos, adding that "it is an absolutely necessary next step."
"The refugee inflow should be reduced but those, who do have the right to get asylum, should be integrated into society," the minister added.
Eight-hour 'value and orientation' training courses aimed at teaching refugees Austrian laws and social norms are a part of the broader integration program developed and agreed by the government and the heads of the Austrian regions on January, 20. The first courses providing places for 400 refugees each will start in February with the program envisaging two courses to be held each month.
The courses will cover the basic values embodied in the country's constitution, equal rights and equal treatment of men and women as well as other democratic principles. The courses are organized by the Austrian Integration Fund with the total budget of the project amounting to €5 million ($5.4million).
You can share this story on social media: