Over 50 militants cross Turkish border to join Al-Nusra in Syria – MoD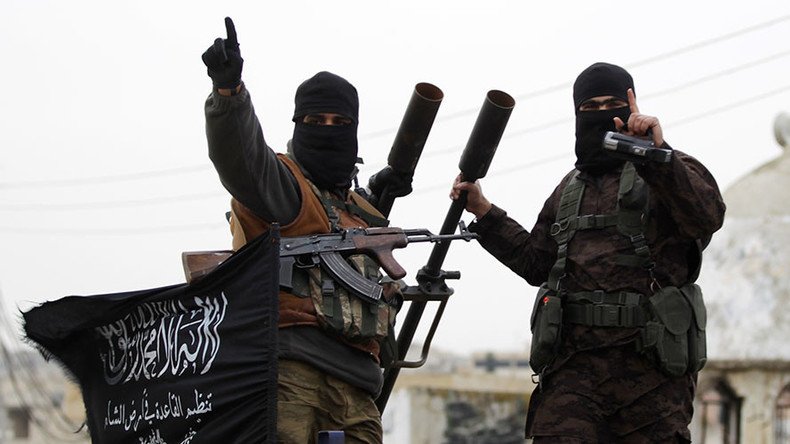 Al-Nusra militant groups in Syria have received reinforcement with over 50 militants and three vehicles loaded with ammunition supplies that reportedly crossed the border "from the territory of Turkey," a Russian defense ministry statement said, citing local witnesses.
The reinforcements have arrived to Anadan city near Aleppo, the information bulletin from the Russian Center for Reconciliation in Syria, published by Russian Defense Ministry on Monday, said. The statement cited witness reports made by local residents.
The report added that Al-Nusra militants have continued their provocations in the north-west region of Aleppo. Terrorist groups tried to launch an offensive on Kurdish militia in the Sheikh Maqsood neighborhood, but after some one and a half hours of fighting, they retreated to previously held positions.
The neighborhood has been shelled with both mortar and artillery fire six times, with over 30 mortar shells and 14 makeshift rockets having been fired. At least two civilians were killed in the attack, and six more injured, the Russian center for ceasefire observance said.
READ MORE: Moscow may unilaterally use force on Syrian ceasefire violators from March 22 – General Staff
In general, nine ceasefire violations in Aleppo, Idlib and Latakia areas have been recorded in the course of 24 hours, conducted by fighters considering themselves part of an opposition group, the report stated.
"The ceasefire on the territory of the Syrian Arab Republic is generally observed," the center said, adding that talks to join the cessation of hostilities have been carried out with commanders of three more armed groups in Hama and Homs Provinces.
READ MORE: Turkey has 'serious questions' to answer: Reactions to RT report on post-ISIS town in Syria
While Turkey, which has been actively engaged in the Syrian war since the outset, has repeatedly denied any claims that it is aiding jihadists there, a recent exclusive report by an RT Documentary crew who visited towns in northern Syria which had been liberated from the militants, suggests otherwise.
The journalists obtained documents which had been abandoned by retreating terrorists and found by the Kurds, and spoke to several witnesses. They provided insight into how and where foreign militants had been entering Syria to join terrorist groups there. The RT crew filmed the passports of the deceased or escaped jihadists who arrived from all over the world. Many of those documents contained entry stamps issued at Turkish border checkpoints.
Apart from allegedly reinforcing terrorists in Syria, Ankara itself has conducted strikes in this part of Syria, shelling Kurdish forces in the northern province of Aleppo in particular. Earlier this month, the Russian Defense Ministry reported ceasefire violations by Turkey in Aleppo and Idlib provinces, saying that Ankara's continuous shelling of Kurdish forces in Syria hampers their operations against Al-Nusra terrorists.
You can share this story on social media: