Anti-vaccination parents face jail time after Uganda passes new law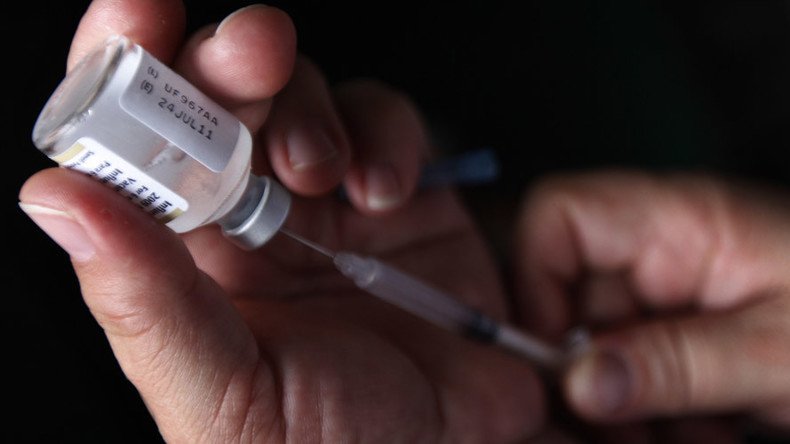 Uganda passed a new law this month targeting parents who refuse to vaccinate their children.
"Anti-vaxxers" could face up to six months in prison in the central African nation of Uganda after claims by the Health Minister and others that a growing religious "cult" is preventing parents from having their children immunized.
The new law was signed by President Yoweri Museveni on March 10, but it wasn't announced until this week.
The Immunization Act would require parents to have their children get shots for diseases such as measles, polio, tuberculosis and meningitis – or face jail time.
Children would also be denied education as it requires them to possess an immunization card to attend school.
Im so scared of needles and i need about 1,000,000 vaccinations for uganda 😩🔫

— merika (@_merikaw) February 24, 2016
The 'anti-vaxxer' organization known as the 666 has been hiding children in slums to prevent them from receiving shots, Health Minister Sarah Achieng Opendi told the BBC.
"It started in a few districts in eastern Uganda, but now it has spread and now we are seeing it all over the country," she said.
666 members were arrested in 2014 after discouraging followers from participating in a national identity card registration. Local media claims the 666 are unwilling to participate in anything to do with numbers and also prohibit visiting hospitals to receive medical treatment.
READ MORE: Anti-vaccine parents to stop receiving childcare benefits under Australian 'no jab, no pay' law

There was an estimated 10,000 members of the 666 in Uganda in 2014. Previously no law was in place that would allow for their arrest if found to be preventing children from being vaccinated.
Opendi claims 3 percent of the country's children have not had the required immunizations, including for polio and meningitis.
About 3 million children under the age of five years old die each year in the African region, with a considerable number of those deaths preventable by vaccine, according to the World Health Organization.
Western countries, including the US, have seen a rapid rise in the anti-vaxxer movement, particularly among affluent white parents and celebrities like Jenny McCarthy, Jim Carrey, and Donald Trump.
If I were President I would push for proper vaccinations but would not allow one time massive shots that a small child cannot take - AUTISM.

— Donald J. Trump (@realDonaldTrump) March 27, 2014
In California, the rate of "vaccine refusal" doubled from 2007 to 2013 to 3.06 percent, with 5.43 percent exempt in private schools compared to 2.88 percent in public, according to the American Journal of Public Health.
Fears link the vaccines to autism and other side effects, including a resurgence in the disease they supposedly prevent and paralysis.
They cite patients in India who had previously been given a polio vaccination.
Last week, Robert De Niro defended the screening of an anti-vaxxer documentary at the Tribeca Film Festival.
"Vaxxed: From Cover-Up to Catastrophe" by activist Andrew Wakefield is based on his own research which was published in a British medical journal in 1998 before being retracted in 2010.
The film explores the link between vaccination and autism.
De Niro defended his decision to screen the film at the festival he helped create in a statement.
He asked personally for the film to be screened as he has an autistic child and wants "all of the issues surrounding the causes of autism to be openly discussed and examined," but added that he was not personally endorsing the film.
The parents of Ezekiel Stephan are currently on trial in Canada after he died from meningitis.
They are charged with failing to provide the 19-month-old with the necessities of life. Instead of medical treatment, the toddler was given home and herbal treatments, including smoothies and apple cider vinegar.
You can share this story on social media: