'Selective, settling scores': Russia, Serbia lash out at UN war tribunal's Karadzic verdict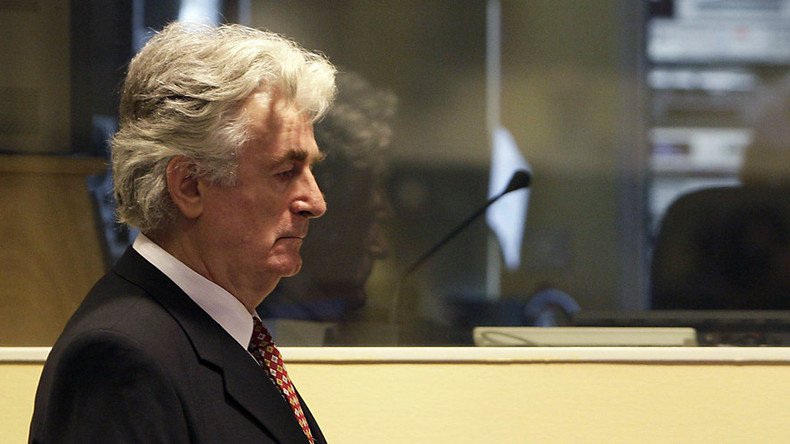 A UN war crimes tribunal has become an instrument of "revenge" and a place to "settle old scores," the Russian Foreign Ministry said in a statement, criticizing the court's decision to sentence Radovan Karadzic to 40 years in prison on genocide charges.
The Russian Foreign Ministry asserted that the verdict, which is one of the harshest ever meted out by the International Criminal Tribunal for the former Yugoslavia (ICTY), appears to be very one-sided, as it attributes the sole responsibility for the Yugoslav civil war to the Serbs.
The ICTY has acquitted numerous other participants of the Yugoslav civil war in the past, including Croatian General Ante Gotovina, Kosovo Albanian Ramush Haradinaj, and Bosnian field commander Naser Oric, according to the statement.
"The civil war in the former Yugoslavia in the 1990s and the NATO bombardments are a tragic chapter in world history," the Russian Foreign Ministry said. "It is hard to imagine that only one side committed all the crimes in that war. The ICTY, however, continues building a myth of the Serbs' sole responsibility for those events."
This kind of approach has undermined interethnic reconciliation in the Balkans, the Foreign Ministry stressed.
Karadzic had served as the Serb's leader in Bosnia during the civil war in the 1990s. The ICTY found him guilty on 10 out of 11 charges on Thursday.
The only charge that was dropped related to allegations that Bosnian Serb forces had committed genocide in seven Bosnian municipalities.
He had been indicted on two counts of genocide, five counts of crimes against humanity, and four counts of violations of the laws of war for his role as President of Republika Srpska (the Bosnian Serb Republic) from 1992 to 1996.
The Serbian Justice Minister, Nikola Selakovic, also accused the Hague-based court of bias against Serbs.
"All justice that leads to the conviction of one people for crimes that were committed by everyone is selective," said Selakovic, adding that the ICTY's work over the last two decades has left a "bitter taste."
In the meantime, Russia's Deputy Foreign Minister, Gennady Gatilov, stated that the ICTY's activities have been "politicized".
The Russian Foreign Ministry pointed out that Russia supported the creation of the ICTY back in 1993, but warned that the court should not become an instrument of revenge or a place to settle old scores.
"These expectations have not come true," the Foreign Ministry said, adding that the ICTY judges don't even bother to hide some of the more questionable methods adopted by the court.
Moscow also pointed out that the ICTY was set up as a temporarily body and has been working on an ad hoc provisional basis for the past 20 years. Moreover, the court has continually ignored deadlines set by the UN Security Council.
You can share this story on social media: