Bosnian Serb leader Karadzic responsible for 'Srebrenica genocide', sentenced to 40 years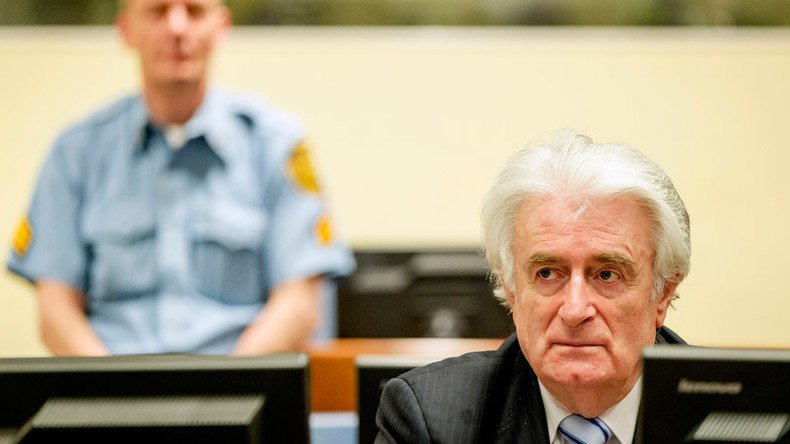 A UN war crimes tribunal says Radovan Karadzic, the Serb leader in Bosnia during the civil war in the 1990s, is responsible for 'genocide' in Srebrenica as well as crimes against humanity and war crimes. One genocide count was dropped.
Karadzic was indicted on two counts of genocide, five counts of crimes against humanity, and four counts of violations of the laws of war in his capacity as President of Republika Srpska (the Bosnian Serb republic) from 1992 to 1996.
On Thursday, the International Criminal Tribunal for the former Yugoslavia (ICTY) found him guilty on 10 charges out of 11. Karadzic was sentenced to 40 years in prison.
The one charge that was dropped related to the allegations that Bosnian Serb forces committed genocide in seven municipalities of Bosnia.
While presiding judge O-Gon Kwon said that, while many crimes were committed against Bosnian Muslims and Bosnian Croats there, Karadzic "is not held responsible for genocide."
He does bear responsibility for crimes against humanity, Kwon said, including murder, extermination and forcible transfer in the municipalities.
The 44-month siege of Sarajevo also amounts to a war crime, the South Korean judge ruled.
Kwon then said that Radovan Karadzic ordered the takeover of Srebrenica before the tragic events of July 1995, when, according to Bosnian Muslims and Western governments, Bosnian Serb forces allegedly murdered nearly 7,500 Muslim men and boys.
Kwon said Karadzic agreed to the killings of males in Srebrenica, and concluded he was responsible for what the ICTY had declared "genocide."
Karadzic's legal team has said that their client was "shocked" at the verdict, and plans to appeal.
Thursday's verdict follows an almost five-year trial and Karadzic's seven-year incarceration in The Hague.
Karadzic was indicted by the tribunal in 1995, but was only captured 13 years later in Belgrade, where he lived disguised as a faith healer. The Serbian authorities handed him over to international investigators for the trial, which began in 2009.
In a recent interview with the Balkan Investigative Reporting Network (BIRN), Karadzic rejected responsibility for the atrocities, insisting that he had led a "permanent fight to preserve the peace, prevent the war and decrease the sufferings of everyone regardless of religion."
"With Srebrenica, unfortunately, I cannot deny everything that is alleged, but I have to contest the extent and background of what happened," he wrote to BIRN. "Again, it wasn't an army unit that was tasked to do the misdeed; rather it was a sort of patchwork, a random collection of guys summoned to do the killings, to their surprise, against their own will and interest, and it was so clandestine that the perpetrators hid it from their most immediate commander."
His concerns were voiced by his legal advisor, Peter Robinson, who complained about the course of the proceedings, which prevented him from providing a proper defense to Karadzic.
READ MORE: Hague tribunal jails 2 Bosnian Serb ex-officials for 22 years
Critics of the tribunal have accused it of conducting a show trial that has denied the accused access to evidence necessary to mount a proper defense. With less than 24 hours left before the verdict is revealed, Karadzic's legal advisor, Peter Robinson, tweeted: "Just rec'd 208 pages of exculpatory material in #Karadzic case from #ICTY prosecution this afternoon. Seriously, prosecutors?"
"The judgment is completely black and white," Marko Sladojevic, legal adviser for Karadzic, told RT. "I discussed it with Mr. Karadzic and we were both astonished that the entire judgment is based on inferences and the judges entirely ignored all the other inferences that were possible or our hard evidence, which proves that Mr. Karadzic was innocent."
"We never said that there were no crimes committed by the Serbs. We said that those crimes were not a part of any system… Mr. Karadzic never participated in any criminal enterprise which never existed," Sladojevic also said. "We never had any other political leaders of the other two nations standing trial here, only low ranking [officials] and we find it equally astonishing."
While the Western media have labeled him 'The Butcher of Bosnia,' many Bosnian Serbs consider Karadzic a hero.
"Radovan Karadzic will always remain ... a hero who made an immense contribution to the creation of Republika Srpska and the defense of the Serb people," said Bozica Zivkovic Rajilic, president of the Bosnian Serb Association of Women Victims of the War.
Despite the decision of former Serbian President Boris Tadic to capture and transfer Karadzic for trial, many Serbs, including Serbian Justice Minister Nikola Selakovic, oppose the highly-publicized proceedings.
"I don't think it [the verdict] will in any way help the reconciliation process which was the primary intention of the tribunal," he said in an interview to the Serbian public broadcaster RTS.
You can share this story on social media: