Northern exposure: Siberian hurricane winds pull 40-ton Boeing 737 along runway (VIDEO)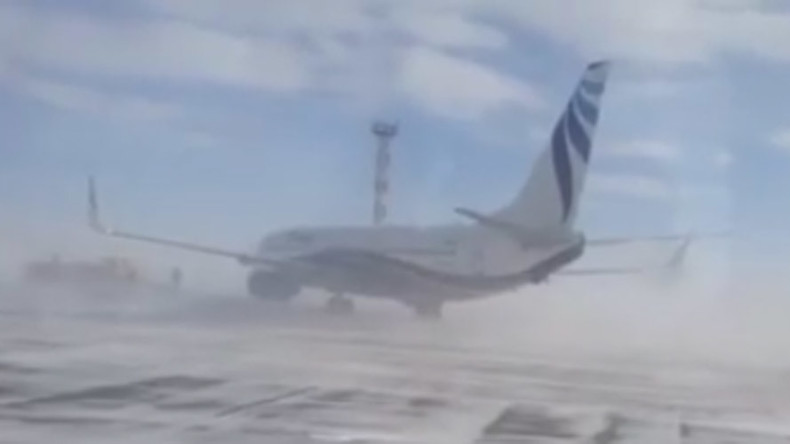 Hurricane winds in Siberian city of Norilsk in Russia literally pulled a Boeing 737-800 along a runway, a dramatic video shot by eyewitnesses shows.
The aircraft, operated by the NordStar airline, judging by its livery, weighs almost 41.5 tons when empty and up to 79 tons on takeoff. Yet it cannot withstand the strong gusts and simply slides along the runway.
The footage was apparently shot by an airport maintenance crew, who are heard reporting the incident to the dispatcher.
"The first time I see such a thing. Northern elements are unleashed in earnest," commented Kraina Kalinushkina, who uploaded the video on her Facebook page. The young woman, who works in the city administration, said it was taken at the Alykel airport, some 52 km west of Norilsk.
Warning: the video contains obscene language in Russian.
Norilsk, a city located in the far north of the western Siberian Krasnoyarsk region, is currently enduring a period of bad weather, with winds reaching the speed of 33 meters per second on Wednesday, when the video was uploaded. The airport is currently closed.
On the same day, a roof fragment was torn from one of the city's buildings and hurled down onto a car, killing a 32-year-old woman and injuring three other people.