'Ruling is just, but no relief': Brother of Igor Kornelyuk on Savchenko's verdict – EXCLUSIVE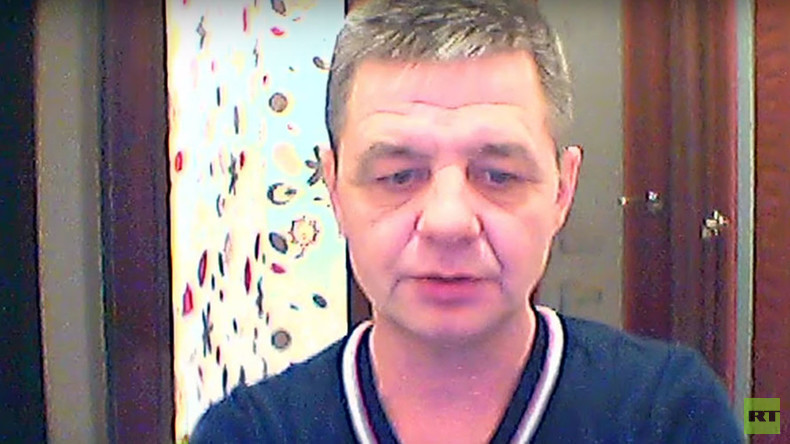 Oleg Kornelyuk, the brother of one of the two Russian journalists who lost their lives in Eastern Ukraine in 2014, tells RT that his family is satisfied with Ukrainian pilot Savchenko's conviction for aiding the killing, though it has brought no relief.
"The ruling is just. Evil must be punished. We do not feel relieved, not really. But we feel somehow lighter now that she is to go to jail. Although, I wonder whether she will actually be put into prison…" Oleg said, alluding to the latest proposals made by the Ukrainian authorities to exchange Savchenko for two Russian servicemen detained in Ukraine.
Earlier on Tuesday, a court in the southern Russian town of Donetsk found Savchenko guilty of murdering the two Russian journalists near Lugansk in eastern Ukraine, and of illegally crossing the Russian border. She was sentenced to 22 years in prison and a fine.
"Twenty-two years is a fair term. God willing, she mends her ways during this time. She'll have enough time to look at what she's done. A person must answer for such crimes as hers, and must answer for a long time," Oleg said, commenting on the verdict.
In the summer of 2014, two Russian journalists – Igor Kornelyuk and Anton Voloshin – were covering the bloodshed in Eastern Ukraine, when they were tragically killed in shelling outside Lugansk. According to the court's materials, Nadezhda Savchenko, a gunner on an Aidar battalion helicopter, reported their location to Kiev troops, who then shelled the area. The attack resulted in the deaths of other civilians as well.
READ MORE: 'No chance to survive': Rossiya TV journalists Kornelyuk and Voloshin killed in Ukraine shelling

"This person [Savchenko] doesn't just have blood on her hands, she is covered in it. Not only the two Russian journalists died there, there were Ukrainian civilians as well among the victims. She will have to answer to higher powers for all the rest of her wrongdoings," Oleg said.
He also dismissed the claims of Ukrainian nationalists that say Savchenko's case has been fabricated and that she is a hero, who was defending her country.
"It's strange [that some] call her a hero. That is after sitting in the bushes and showing the artillery where to strike to hit civilians."
"I forgive her," he added. "What's done is done. No one will give us [Igor] back, but we do not hold any grudge against her. It's the higher forces that she'll have to answer to."
You can share this story on social media: