'Democracy, freedom and the rule of law' have no value, Erdogan says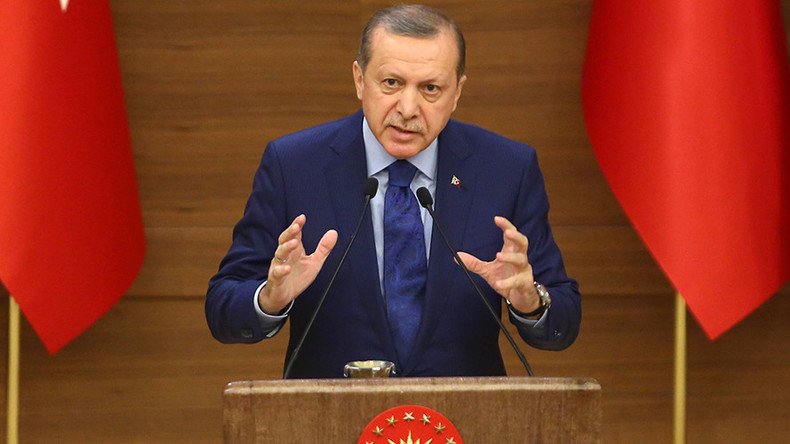 Democracy, freedom and the rule of law have no value any longer, Turkish President Recep Tayyip Erdogan has said. He added that those who don't support Ankara' efforts to combat terrorists in the country are Turkey's "enemies."
"Democracy, freedom and the rule of law…For us, these words have absolutely no value any longer. Those who stand on our side in the fight against terrorism are our friend. Those on the opposite side are our enemy," Erdogan told local leaders in Ankara on Wednesday, according to the DPA news agency.
Ankara is planning to deploy "an iron fist against terrorism" and "fight Kurdistan Workers' Party (PKK) militants" in the country's south east Erdogan said.
Turkey views all Kurdish militia that are also spread widely throughout Syria and Iraq as a direct national threat. Erdogan repeated Turkey will strike Kurds everywhere.
"Wherever you run, our soldiers, police and village guards will find you there and do what is necessary," the president said, referring to Kurdish militants.
He also urged the authorities to "swiftly" end immunity from prosecution for pro-Kurdish politicians.
READ MORE: West has no chance of stopping refugee influx – Turkish President Erdogan
"I no longer see as legitimate political actors the members of a party, which is operating as a branch of the terrorist organization," Erdogan said. The Turkish president has repeatedly accused the Peoples' Democratic Party of Turkey (HDP) of supporting PKK fighters.
READ MORE: Erdogan accuses journalists of 'biggest attack' against Turkey, says court is 'against country' too
This is not the first controversial comment made by the Turkish president. In January, he reiterated his desire to ensure Turkey's adoption of a presidential system of government. He has even cited Adolf Hitler's Germany as an example of how this can be achieved.
"There are already examples in the world. You can see it when you look at Hitler's Germany," he said on Thursday, according to a recording broadcast by the Dogan news agency. "There are later examples in various other countries."
In February, Erdogan accused Washington of causing the bloodbath in Syria by not recognizing as terrorists Kurdish forces fighting against Islamic State (IS, former ISIS, ISIL) in the region.
"Oh America! I told you many times, you are [either] beside us, or all of these terrorist organizations. You haven't had a good grasp of them, and that is why the region has turned into a sea of blood," Erdogan said, referring to the Syrian Kurdish Democratic Union Party (PYD) and its militia wing, the People's Protection Units (YPG), which the US does not recognize as terror groups.
READ MORE: 'Me or terrorists?' Furious Erdogan tells US to choose between Turkey and Syrian Kurds
The conflict between the Turkish government and Kurdish population, who demand greater autonomy, has been continuing for decades. With several failed ceasefires between the sides, Ankara has been blamed by a number of human rights groups for putting civilian lives at risk in Turkey's mainly Kurdish southeast.
In summer 2015, Ankara launched a military operation to crack down on Kurdish fighters linked to the Kurdistan Workers' Party (PKK). The violence ended a two-year truce.
You can share this story on social media: