'Hell for journos': RT crews came under fire 8 times doing war-zone reports from Syria
Published time: 15 Mar, 2016 06:29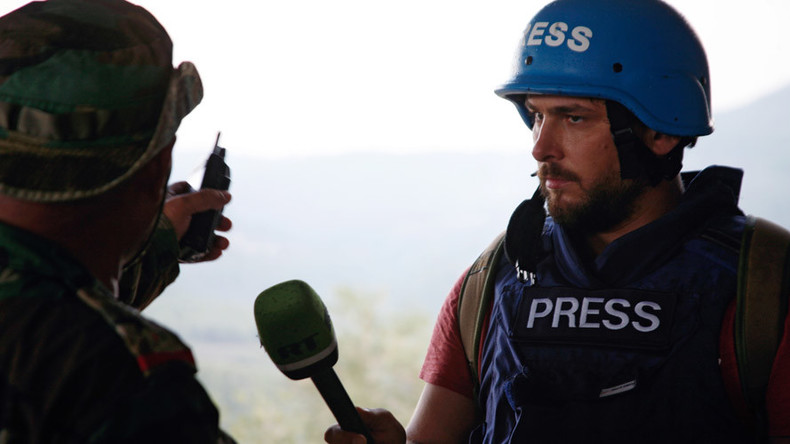 While covering the Syrian conflict in recent years, RT journalists have cоme under fire at least eight times, proving that Syria has become one of the most dangerous places in the world for media workers.
Al-Shaddadah, eastern Syria (March 15, 2016)
A crew from RT Documentary came under intense shelling from Islamic State (IS, formerly ISIS/ISIL) militants while taking footage at Syrian Kurdish militia (YPG) positions near the town of Al-Shaddadah in eastern Syria.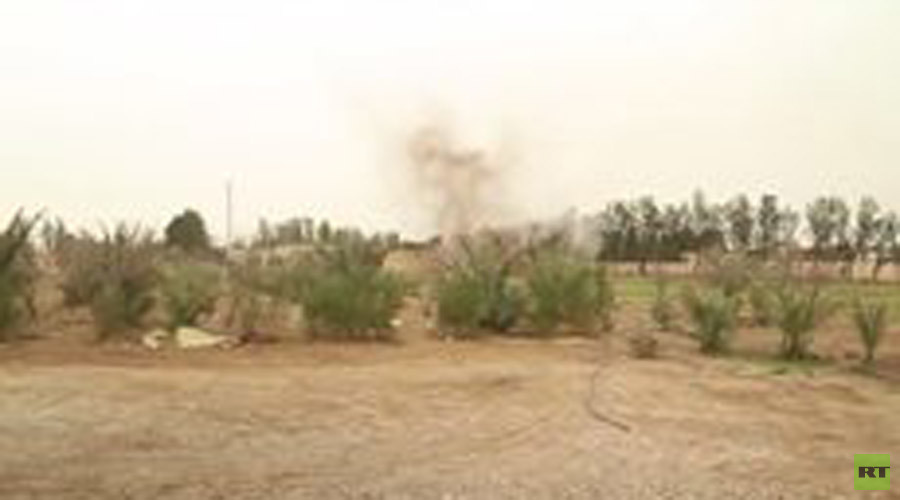 "Islamic State militants apparently spotted us and our vehicles. Then they started to shell our positions. About five or six shells were fired at us, after which YPG fighters decided we should leave the position," an RT journalist, who came under attack, said.
The location was about three kilometers from the frontline. The journalists said they recorded a shell landing just 15-20 meters from them, but luckily nobody was hurt in the incident.
Daraa, southwest Syria (March 13, 2016)
An RT crew was filming in the city and talking to local people when mortars landed nearby.
No injuries were reported following the incident.
"We were in the streets of Daraa city talking to local people five years since the war began, and our work there was cut short when a mortar was fired from opposition territory, landing on a building very close to us," journalist Lizzie Phelan told RT by phone shortly after the incident.
The crew had to cut short the interview and leave the area.
According to an accompanying military official, the journalists might have been targeted by the opposition.
Kinsabba, Latakia province (March 1, 2016)
RT Spanish reporter Boris Kuznetsov, RT Arabic reporter Hassan Nasr, RT cameramen Khaled Eldera and Ruptly cameraman Aleksandr Tikhomirov were shelled in the village, while filming an area captured from the rebels.
Eight shells were fired by forces, which the Syrian military believe were members of the Al-Nusra Front terrorist group.
The shells landed some 150 to 400 meters from the main group.
"We spoke to local residents, they spoke about their hopes for peace, and it all changed in the blink of an eye - we heard what could be artillery fire, or maybe they were grenades. Everybody fell to the floor. It was an adrenaline rush," Nasr said.
Al-Dagmashliya, Latakia province (November 24, 2015)
RT's Roman Kosarev and RT Arabic's Sargon Hadaya were in a car driving along a road. Shortly after they approached a group of people in military outfits, their car was struck by an explosion.
Leaving the vehicle, a cameraman from the crew recorded a second blast while the area became engulfed in dust. The RT crew escaped, escorted by armed Syrians.
This time there were injuries. Kosarev sustained shell-shock and concussion, while Hadaya was hurt by pieces of shrapnel that lodged in his back and shoulder.
Harasta, near Damascus (October 26, 2015)
A mortar shell was fired in the direction of RT's Lizzie Phelan and her crew when they stopped in the town to assess developments. They were heading towards the town of Jobar, which is right on the frontline.
The journalists said they were targeted deliberately and that one of the shells landed just five meters from them.
They added it was not immediately clear who was responsible, but they suspect that militants had tracked their movements. The crew quickly abandoned the area.
Zabadani, southwestern Syria (September 7, 2015)
RT correspondent Lizzie Phelan and her crew came under heavy fire as they were attempting to approach the front dividing the city of Zabadani, a long time rebel stronghold close to capital city of Damascus.
The journalists heard a heavy artillery exchange between Syrian government forces and the rebels as they entered the city. Later, they were caught in the middle of ongoing skirmishes as they tried to get closer to the frontline.
"It seem that there are snipers firing at our position… sniper positions were firing towards us… so we had to leave the area very quickly," Lizzie Phelan told RT.
Daraa, southwestern Syria (February 14, 2015)
A crew from RT's Arabic channel, together with a group of other TV journalists, came under fire from Al-Nusra Front militants.
"The Al-Nusra Front units have shelled several districts of Daraa, with the facility which hosted not only our channel's crew, but representatives of other media outlets, also being bombarded. The technical services of the Syrian television were also shelled," RT correspondent Abutalib Albohaya said.
Damascus suburb (July 21, 2013)
Syrian journalist Ibrahim Issa works for RT along with RT Arabic Abu Talib Albouhaa. Just after they arrived in the Damascus suburb of Daraya and started filming, parts of a mortar shell - presumably fired from the rebel-controlled area – struck Issa.
The shell reportedly hit the building close to where Syrian Army troops were deployed and where RT's crew was working.