'Lives shaped by violence & fear': 80% of Syrian children affected by conflict – UNICEF report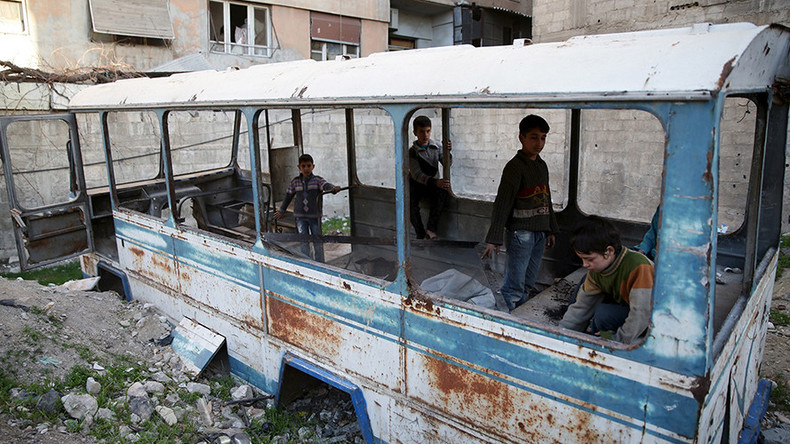 Some 8.4 million Syrian children, 80 percent of the total number, have been affected by the Syrian war, the UN children's agency reports. Kids as young as seven are being recruited by all parties in the conflict as fighters, UNICEF says.
One in three Syrian children – 3.7 million – have been born since the eruption of the conflict five years ago and "their lives are shaped by violence, fear and displacement," a UNICEF report titled "No Place for Children" says.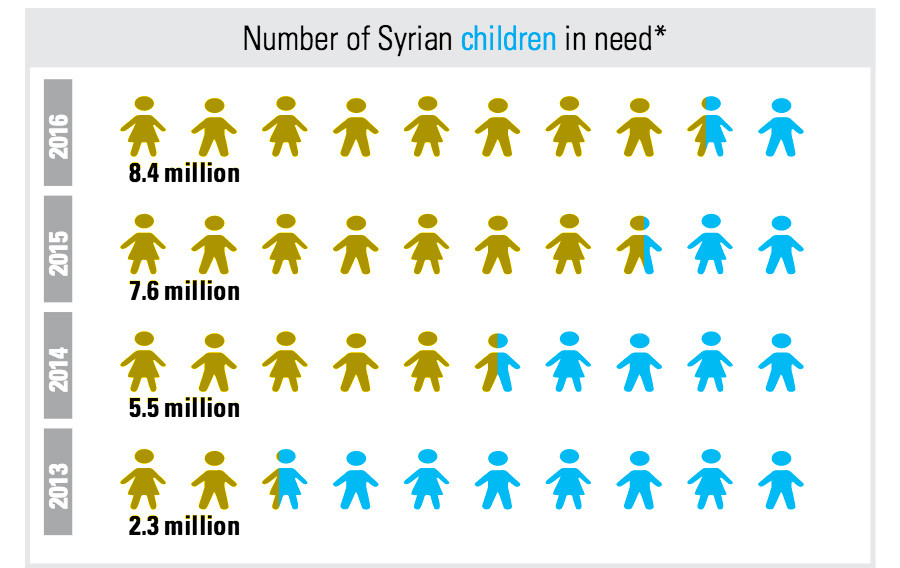 "For the 3.7 million Syrian children born since the conflict began, five years is literally a lifetime. A lifetime in which they have known little but violence, deprivation, and uncertainty," Anthony Lake, UNICEF Executive Director, said.
More than 800,000 Syrian children live in neighboring countries as refugees with more than 300,000 already born as refugees.
"Nearly 7 million children live in poverty, making their childhood one of loss and deprivation," said Dr. Peter Salama, UNICEF's Regional Director for the Middle East and North Africa.
UNICEF also reports almost 1,500 grave violations against children committed in Syria in 2015. More than 60 percent of violations are said to be death and maiming resulting from using explosive weapons in populated areas. One third of the targeted children were attacked at schools or on their way home. At the same time almost three million Syrian children are said to be out of school.
The report tells the story of Nuha, 11, who last saw her brother when he was heading out to get her a scoop of her favorite ice-cream in the Old City of Homs. The boy was struck with a mortar and never returned home. "I imagine him coming back with an ice-cream in his hand," Nuha says as cited in the report.
The UN agency also reports that since 2014 all parties in the conflict have been recruiting child fighters with some of them being as young as seven. According to UNICEF data more than half of the children recruited in 2015 were under 15.
Children are encouraged to join the fighting with gifts and salaries up to $400 pro month.
Not only boys but also girls are being recruited by the warring sides. Huda was 14 years old when she participated in her first fighting. "I was scared," she said as cited by the report. "The commander gave me a gun and said get ready for the battle." Despite her barely knowing how to use her weapon, Huda managed to survive and now lives as a refugee in Jordan.
According to UNICEF more than 100 children were killed or injured at the battlefield in 2015.
The report does not give the figure on the number of children killed in the conflict over the five years, but says that more than 10,000 children lost their lives between 2011 and 2013.
UNICEF also proposed a number of measures necessary for the protection of Syrian children. These steps include ending violations of children's rights, lifting sieges and improving humanitarian access, securing $1.4 billion in 2016 for providing children with learning opportunities, restoring their dignity and psychological well-being and turning funding pledges into commitments.
"It's not too late for Syria's children. They continue to have hope for a life of dignity and possibility. They still cherish dreams of peace and have the chance to fulfill them," Salama said.