US embassy issued warning on impending attack in Ankara 2 days before Sunday blast
Published time: 14 Mar, 2016 09:09
Edited time: 14 Mar, 2016 09:26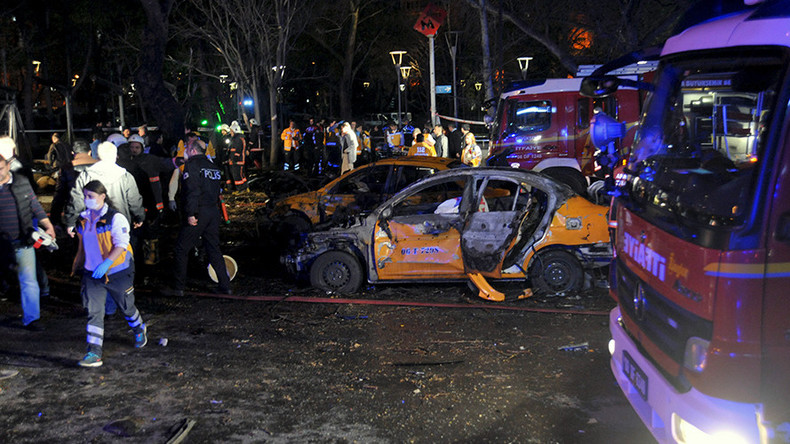 The US embassy in Turkey issued a security warning to American citizens two days before a blast caused by a suicide car bomb hit the center of Ankara on Sunday evening. At least 37 people were killed and 125 injured in the explosion.
The American embassy had warned on its website about a "potential plot to attack Turkish government buildings and housing in the Bahcelievler neighborhood," in Çankaya District, where the Turkish National Library is located among other landmarks. "US citizens should avoid this area," the embassy stated.
"We advise US citizens to review their personal security plans, remain aware of your surroundings and local events, monitor local news stations for updates, and follow local authority instructions," it added on Friday.
The Sunday blast, the second attack in the administrative heart of the city in under a month, occurred near Guven Park and Kizilay Square, several kilometers from Bahcelievler. The site of the explosion is close to the Justice and Interior Ministries, a top courthouse, and the former office of the country's prime minister. The blast, which could be heard several kilometres away, appears to have been triggered by a car exploding near a bus stop, Turkish broadcaster TRT reported, adding that the site is a major transportation hub.
"It's a car bomb, [it happened] in the heart of Ankara... and today is Sunday, many people may be outside," Turkish journalist Onur Burcak Belli told RT by phone, adding that the scene of the blast is "very close to a shopping mall."
While no one has claimed responsibility for the attack, two senior security officials told Reuters that the initial findings suggested that members of the outlawed Kurdistan Workers' Party (PKK) or an affiliated group were responsible. The PKK has been waging an armed struggle for Kurdish autonomy since 1984.
On Friday, Turkish Interior Minister Efkan Ala said that new military operations against PKK members could be expected in several mostly Kurdish-populated towns in the east of the country. The Turkish military operation against PKK militants in the southeast was launched in July 2015, breaking a ceasefire agreement that had held for two years. The Turkish crackdown against the Kurds has been criticized by human rights groups. Amnesty International reported in January that at least 150 civilians, women and children among them, have been killed in the Turkish military operation, saying that some 200,000 people had been put at risk and were being denied access to services due to strict curfews.
READ MORE: Turkey keeps shelling Kurds, backing terrorist groups in Syria – Russian MoD
In February, 28 people were killed and 61 injured in a blast in Ankara, when a car bomb, reportedly targeting military personnel, went off close to the parliament building. Turkish Prime Minister Ahmet Davutoglu immediately blamed a Syrian Kurdish militia fighter for the attack, which further proved that the YPG was a terrorist organization, the PM said. "Yesterday's attack was directly targeting Turkey and the perpetrator is the YPG and the divisive terrorist organization the PKK. All necessary measures will be taken against them," Davutoglu said in a televised speech. Within hours, Turkish warplanes bombed PKK bases in northern Iraq, and shelled YPG positions in northern Syria, a security source told Reuters.