Turkey warplanes hit Kurdish PKK camps in northern Iraq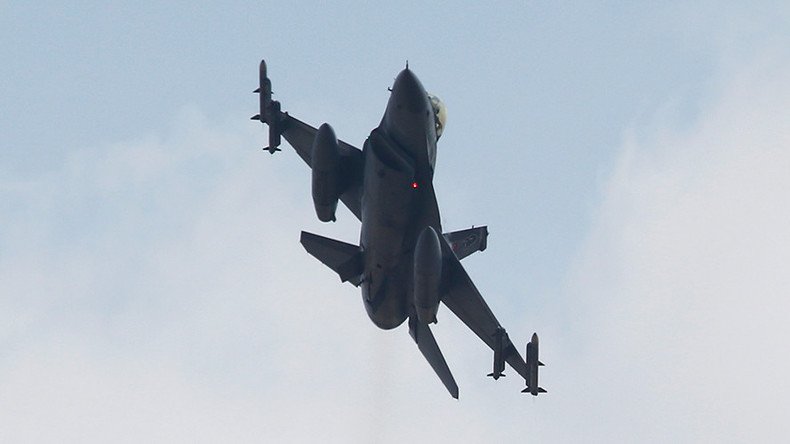 Turkish warplanes bombed camps belonging to the Kurdistan Workers' Party (PKK) in the north of Iraq early on Monday, Turkey's army has confirmed. The strikes come less than 24 hours after a car bomb in Ankara killed at least 37 people.
A total of 11 fighter jets were involved in the bombardment of the PKK positions. Some 18 targets were hit, including ammunition depots and shelters, the Turkish military said in a statement, as cited by Reuters.
Turkey believes the PKK is a terrorist organization and Ankara has blamed the Kurdish separatist group for a number of recent terrorist attacks in the country, including Sunday's car bomb at a transport hub in the Turkish capital, which killed at least 37 people and injured dozens more.
Turkish security officials claimed on Monday that a woman who joined the PKK in 2013 was one of the two suspects behind the car bombing in Ankara, according to Reuters. They said that the woman was born in 1992 and was from the eastern Turkish city of Kars.
Speaking after the attack, Turkish President Recep Tayyip Erdogan said he would bring terrorism "to its knees," and that the Turkish state would "never give up using its right of self-defense."
"All of our security forces, with its soldiers, police and village guards, have been conducting a determined struggle against terror organizations at the cost of their lives," Erdogan said in a written statement, as cited by the Hurriyet Daily News. "These attacks, which threaten our country's integrity and our nation's unity and solidarity, do not weaken our resolve in fighting terrorism but bolster our determination," he added.
The Turkish Air Force bombed at least five PKK targets in Iraq on March 9, with Ankara claiming 67 militants were killed.
On December 9, 10 Turkish F-16 fighter jets targeted Kurdish positions in northern Iraq, with the Turkish military saying that its targets were "destroyed in an aerial campaign."
These strikes came days after Turkey had deployed about 150 troops and 25 tanks to a base in Iraq's Nineveh province, without bothering to get permission from Baghdad. Ankara argued that its soldiers were sent to northern Iraq after a threat from Islamic State (IS, formerly ISIS/ISIL) to Turkish military instructors training anti-terrorist forces in the area.
Erdogan had rejected a request from Baghdad to withdraw the troops, claiming that the Turkish military is present in Iraq "as instructors."
A two-year truce to a decades-long conflict between Ankara and the Kurds was shattered in July. Turkey has launched a security crackdown in the predominantly Kurdish south east of Turkey, while also striking Kurdish positions in Iraq and Syria.
On Monday, Turkey announced it would implement a new 24-hour curfew in the south-eastern town of Sirnak to try and carry out operations against Kurdish militants.
Speaking to RT, Ertugrul Kurkcu, Honorary President of the Peoples' Democratic Party (HDP), said that Ankara's crackdown was failing to distinguish between the militants and the general civilian population who support Kurdish rights.
"This is a crackdown not on the PKK, but on the civilian population and Kurds who have been supporting our party, who have been supporting Kurds' rights," he said.
"And they were targeted during this crackdown. The government's figures are incorrect... According to our figures, until this day, 652 civilians have lost their lives during the curfew in the cities of Cizre, Silopi, Sirnak and Nusaybin. And of these, 97 are children and 94 are women."
You can share this story on social media: