Turkey bombs multiple PKK locations in northern Iraq, 67 militants killed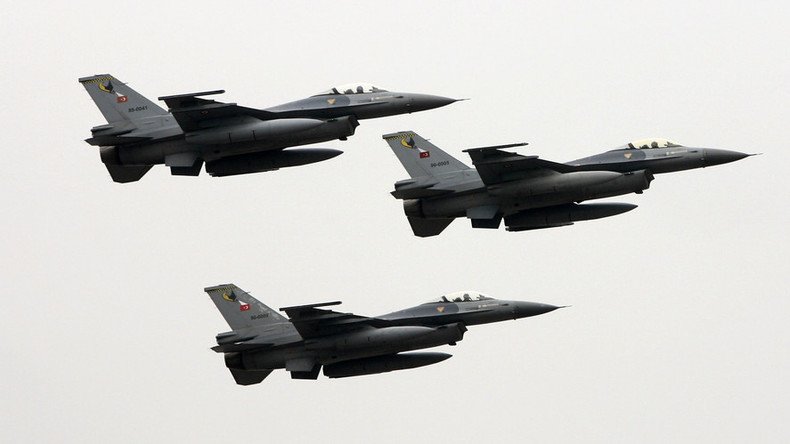 The Turkish Air Force has delivered airstrikes in at least five locations on the territory of neighboring Iraq, targeting strongholds of the Kurdish militia, various media reported. The Turkish military claims 67 militants of the Kurdistan Workers' Party (PKK) have been killed.
Turkish warplanes have attacked PKK targets in northern Iraq, including the headquarters of the PKK leadership situated right on the Iraq-Iran border in the Qandil Mountains, reportedly hitting the settlements of Avasin, Basyan, Haftanin, Metina and Qandil, Reuters reports, citing the army.
The airstrikes took place on Wednesday, March 9, according to Turkey's state-run Anadolu Agency. The agency cites an unnamed security source who claimed that 14 F-16 and F-4 fighter jets participated in the assault, bombing PKK camps, arms depots and bunkers.
READ MORE: 'We are afraid but won't leave our land': Syrian Kurds who survived Turkish shelling tell RT
Beginning July 2015, after the two-year truce between Ankara and the Kurds was scrapped, Turkey has been delivering regular airstrikes against Kurdish militia in neighboring Iraq and shelling Kurdish settlements in Syria as well.
The PKK is demanding autonomy for Kurds in Turkey's south-east, and is listed as terrorist organization #1 by the Turkish government.
READ MORE: 'Out of question': Erdogan rules out Turkish troop withdrawal from Iraq
In early December 2015, Turkey deployed about 150 troops and 25 tanks to a base in Iraq's Nineveh province, without bothering to get permission from Baghdad. Ankara argued that its soldiers were sent to northern Iraq after a threat from Islamic State (IS, formerly ISIS/ISIL) to Turkish military instructors training anti-terrorist forces in the area.
Turkey's president Recep Tayyip Erdogan rejected a request from Baghdad to withdraw the troops, claiming that the Turkish military is present in Iraq "as instructors."
On Friday, Turkish Interior Minister Efkan Ala said that Ankara is preparing another military operation against the Kurdish PPK in the country's south-east. The minister announced plans to introduce curfews in three districts, saying that eight other districts have been "cleared of terrorists."
In an interview Friday at the Foreign Ministry in Moscow, Russian Deputy Foreign Minister Gennady Gatilov criticized Turkey for shelling Kurdish positions on Syrian territory, alleging that Ankara is turning a blind eye to arms supplies to terrorists.
Gatilov stressed that such practices must stop in order "to provide a more constructive atmosphere for the intra-Syrian talks and a more durable cease-fire," Bloomberg reported.
You can share this story on social media: