Chicago-bound Amtrak train with over 140 on board derails in Kansas, nearly 30 injured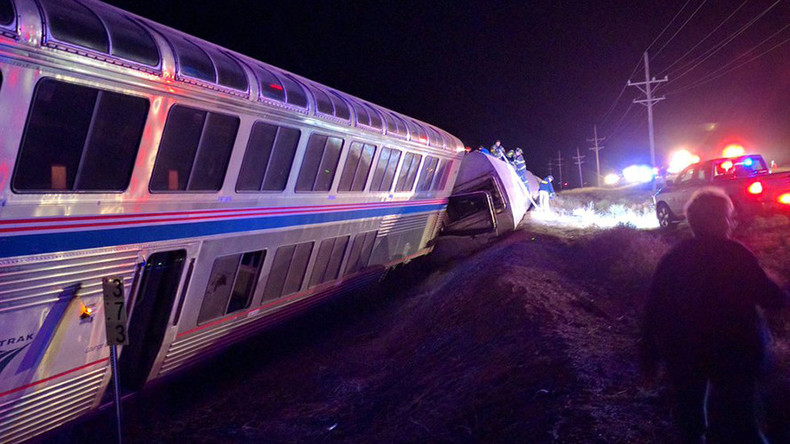 Five rail cars of Amtrak's Los Angeles-Chicago passenger train have derailed in Kansas. Approximately 142 passengers and crew were on board, 29 of whom sustained injuries and are being treated in local hospitals.
UPDATE: The engineer applied the emergency brakes after noticing a "significant bend in a rail," an unnamed official familiar with the investigation told AP Monday afternoon. Investigators are now checking if a vehicle may have damaged the track, the agency reported.
The incident occurred in Gray County, Kansas, some 3 miles (about 5km) outside Cimarron.
"Just after midnight CT, Amtrak Southwest Chief Train 4, operating from Los Angeles to Chicago, derailed some cars approximately 20 miles west of Dodge City, Kansas, on BNSF track," Amtrak said in a statement, adding there were approximately 128 passengers and 14 crew members on board.
Local emergency responders provided on-site response, while approximately 20 passengers were transported to hospitals in Garden City and Dodge City, the passenger rail service said.
The number of hospitalized increased to 29, Gray County spokeswoman Ashley Rogers said later in the evening, Associated Press reported. No life-threatening wounds were sustained by the victims, she added.
Susan Morgan, the mother of one of the passengers, told KAKE News the Southwest Chief train was heading east from Los Angeles toward Chicago. Morgan said her daughter, a college student in Arizona, was helped out of a window to safety after the train started shaking while traveling at 75 miles per hour (120km).
Eight people were killed and over 200 injured last year in May when an Amtrak train heading from Washington to New York tumbled from its rails just outside Philadelphia. The train was traveling at more than 100 miles per hour (over twice the speed limit) when it entered a curve in the tracks and derailed, investigators said.