RT crew comes under fire in suspected 'targeted attack' while filming in Daraa, Syria
Published time: 13 Mar, 2016 14:51
Edited time: 14 Mar, 2016 00:42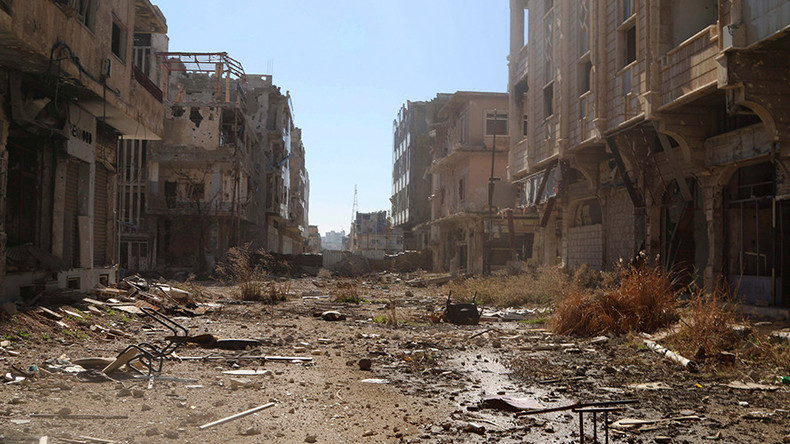 Mortars landed near to where an RT crew was filming in the city of Daraa in southwest Syria, RT's Lizzie Phelan reported. Journalists might have been targeted by the opposition side, an accompanying military official said.
"Two mortars [were] fired from opposition turf near where we were filming," Phelan said, reporting from the area close to the border with Jordan.
A mortar shell hit a building near to where RT journalists were working.
No injuries have been reported following the incident.
"We were in the streets of Daraa city talking to local people five years since the war began, and our work there was cut short when a mortar was fired from opposition territory, landing on a building very close to us," Phelan told RT by phone shortly after the incident.
The crew had to cut short the interview, get into the car and leave the area.
"Just a few seconds after we got into the car, another mortar landed in the same area," she said.
"The general in charge of the area believes that the attack was a targeted attack," the RT reporter said, adding that although there is no confirmation to prove or deny this allegation, the military official said that the area where RT was filming "is very rarely targeted by mortars."
"He believes that local people who support the opposition called fighters on the other side of the frontline to say that there was a media crew in the area," Phelan said, adding that according to the general "the opposition doesn't like media filming in government-held territories."
"We were somewhat successful," she added, saying that the crew managed to escape the scene and quickly get to Damascus.
READ MORE: 'Truce hasn't changed anything, terrorists intensified attacks' – Aleppo residents to RT
The city of Daraa, which is now rarely attacked, is known as the cradle of the uprising in Syria. For five years it has been "pretty much a divided city" between the government forces and various opposition groups, including the Free Syrian Army, Phelan reported. Extremists from the Al-Nusra front have also been involved in fighting in the area, she said, adding that the terrorists still control some of the border crossings near Jordan.
"There's an array of different groups in non-government held territory [in Daraa], it's still a hotspot in the Syrian war," she said.
READ MORE: Moment RT crew's car hit by mortar shell in Syria caught on camera (VIDEOS)