Russian op in Syria prevented ISIS from Kosovo-style formation of state – Serbian president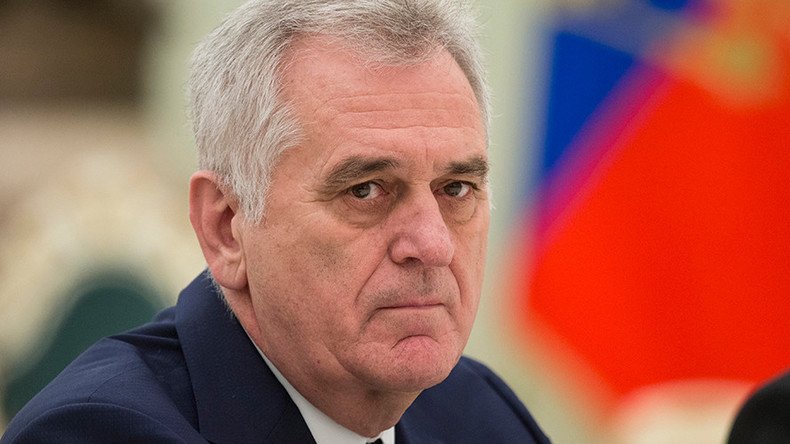 Serbian President Tomislav Nikolic has in an interview with RT drawn parallels between the case of the recognition of Kosovo's independence and Islamic State's attempts at establishing itself as a legitimate state.
Speaking to host Oksana Boiko on the Worlds Apart program, Nikolic hailed Russia's role in trying to resolve the Syrian crisis, slamming as biased claims that Russia started its operation in the Syrian conflict with malicious intent.
"If the United States intervened in Iraq, Libya and Syria with good intentions, why is it suggesting Russia has malicious intentions, especially since it has been shown that the Russian intervention in Syria against Islamic State [IS, formerly ISIS/ISIL] directly stopped the formation of a state in the way that was used earlier in Kosovo, and thank God we have our friends and protectors in the UN Security Council, particularly Russia, who will never allow that to be formalized in the UN," Nikolic said.
"If Islamic State were to take hold in Syria and establish itself as a state, there is the question of whether anyone would use the example of Kosovo to recognize it," he added.
Serbia wants to have good relations with both Russia and the West, the country's leader said, but ruled out the possibility of ever joining Western military alliance NATO.
"Serbia will never be a member of NATO. This is a decision made by the people of Serbia, and no government can revoke it," he said.
"I once told the previous secretary general of NATO, 'Why should we join the Alliance? We are already surrounded by nations that are either NATO members or candidates, so who could possibly invade us? Russia? Certainly not. So thank you very much, but we don't need protection from anyone."
Nikolic also said that although Belgrade is eager to join the European Union, if the accession means that "someone will force us to recognize the independence of Kosovo and give up our cooperation with Russia, then we'd rather not join the EU."
Similar to other supranational institutions that interpret their scope of competence rather loosely, the EU tends "to impose its will on member states," Nikolic said.
Now that Serbia is being offered a chance to join the bloc and subscribe to a common foreign policy, "If this means we'll have to be opposed to Russia, then why would we want that?" Nikolic said.
Once crisis strikes, there's no common policy in Europe
Although the EU has operated successfully for several decades, it has never encountered challenges similar to the migrant crisis it is facing now, Nikolic said.
With the issue of migrants and refugees raging in Europe, EU member states are re-introducing visas and strengthening their increasingly barb-wired border controls.
"It seems that, once a crisis strikes, Europe doesn't have a common policy anymore," the Serbian president said.
It would be useful for the EU "to work out some sort of a deal with Turkey, regardless of what Turkey gets out of [it]," Nikolic added regarding the influx of migrants.
"Why is no one pointing out that it was Turkey that opened its borders for migrants who were staying on its territory for decades, causing problems in Europe in order to force it to talk about membership with Ankara after 50 years of negotiations?" Nikolic asked.
He believes there's a reason to be wary of the massive wave of asylum seekers.
"We have noticed that many of the asylum seekers are young people. One can imagine some could be Islamic State fighters fleeing from defeat in Syria, who have taken off their uniforms, and are trying to pass for refugees. With passports being printed by each country, you have to take the bearer at their word because of the rules, and there's a great risk that something bad could happen."
Nikolic warned of a "tectonic shift" awaiting Europe if nothing is done to halt the trend among the poor in Africa to migrate to Europe for a better life.
Balkan states, "primarily Greece, Macedonia and Serbia," as transit states, are dealing with "enormous issues" they cannot solve on their own, particularly "because of the selfishness of certain European nations which have closed their borders. Something serious is going on. And unless Europe develops a serious response, it will face a major crisis with unpredictable consequences," he said.
Serbia, which is not an EU member state, has committed to accommodating 6,000 refugees and has already prepared fully equipped accommodation for 3,000 of them. However, Nikolic believes that those asylum seekers have been agitated by the rumors that Europe is closing its borders, and "are trying to get to their country of destination as quickly as possible, without stopping in Serbia."
If the route is blocked and refugees are unable to pass through Serbia, then there would be a problem, Nikolic said, because transfer refugees would accumulate within the country.
"Serbia is fulfilling its commitments, but it's Europe's move. Serbia is just a piece of the puzzle," the president said, stressing that Serbia could accommodate 6,000 refugees maximum.
You can share this story on social media: