Serbs protest government's NATO deal, call to Russia for help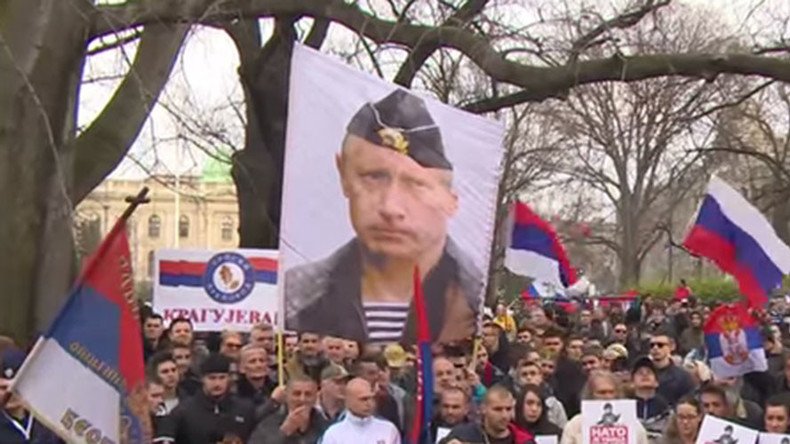 Thousands of Serbs marched through the heart of Belgrade to the Russian embassy, in protest at a new co-operation agreement with NATO, and the death of two Serbian hostages during a US air strike in Libya.
Organized by the ultra-conservative, nationalist Zavet and Obraz movements, the march proceeded peacefully, as the demonstrators brandished portraits of Russian President Vladimir Putin in military fatigues, and held placards with the slogan "Expel NATO ASAP." One banner read "Putin for President," another "Medvedev for PM," in reference to the head of the Russian government, Dmitry Medvedev.
After marching past the buildings damaged during the NATO airstrikes in 1999, the throng came to a halt outside the Russian embassy, where several speakers implored Moscow, a traditional Serbian ally, to intervene.
The demonstration was prompted by the government signing a deal on Friday, guaranteeing diplomatic immunity and free movement to NATO troops.
"The deal with NATO contradicts the will of the Serbian people, and breaks the constitution, as NATO will be able to use our infrastructure, and wander around as they wish," said a statement from the organizers, who said they would launch a legal appeal against the treaty.
The issue is particularly sensitive, as NATO peacekeepers continue to operate in Kosovo, which seceded following the 1999 conflict with the local Albanian population; activists chanted "Kosovo is Serbia" throughout Saturday's demonstration.
Prime Minister Aleksandar Vucic, himself a former nationalist, and a minister under Slobodan Milosevic, has defended the decision, saying its critics are "stuck in the 17th century," and insisting that "Serbia is maintaining its sovereignty and wants to cooperate both with NATO and with the Russian Federation." President Tomislav Nikolic has also said that there is "nothing new or controversial" about the deal, emphasizing that it is merely a matter of practical cooperation, which will also allow Serbian troops to move freely in other territories during international missions.
Several of the speakers also blamed the West for the death of two embassy staff in Libya, who had been abducted by Islamic State fighters, and died on Friday in a US air strike on a jihadist camp in Sabratha in Libya, along with over forty others. The Serbian government, which had been negotiating the release of the hostages, has condemned the deaths, and demanded an explanation from the Pentagon.
You can share this story on social media: