South Sudan pro-govt forces offered women to rape in lieu of wages – UN report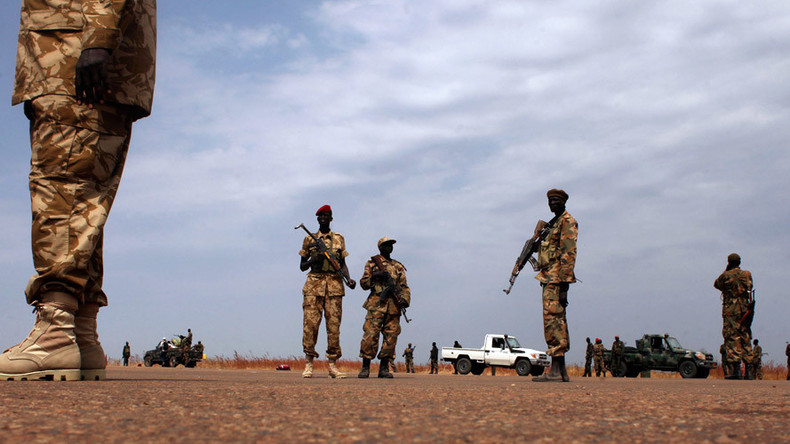 Pro-government militias fighting in South Sudan's civil war have been offered women to rape in lieu of wages, according to a UN report. The document also includes harrowing accounts of opposition supporters being killed.
"Credible sources indicate groups allied to the government are being allowed to rape women in lieu of wages but opposition groups and criminal gangs have also been preying on women and girls," said the UN human rights office, which published the report on Friday.
Over a five-month period last year, more than 1,300 rapes were reported in South Sudan's Unity State – just one of the country's 10.
One woman described being stripped naked and raped by five soldiers on the side of a road in front of her children. She said she was then raped by more men in the bushes, only to return to find her children missing.
Another victim said after her husband was killed she was tied to a tree and forced to watch her 15-year-old daughter being raped by 10 soldiers.
Others said they were attacked after leaving UN-protected camps in search of food, while some were abducted as sex slaves or "wives" for soldiers living in government barracks.
"If you looked young or good looking, about ten men would rape the woman; the older women were raped by about seven to nine men," a witness said.
In one incident, soldiers argued whether or not to rape a six-year-old girl, and ended up shooting her, the report claims.
According to the report, the prevalence of rape "suggests its use in the conflict has become an acceptable practice by (government) SPLA soldiers and affiliated armed militias."
Acknowledging the figures disclosed in the report, UN human rights chief Zeid Ra'ad Al Hussein said those rapes must amount to only a "snapshot of the real total" taking place in the country.
"The scale and types of sexual violence – primarily by Government SPLA forces and affiliated militia – are described in searing, devastating detail, as is the almost casual, yet calculated, attitude of those slaughtering civilians and destroying property and livelihoods," he said in a statement.
In addition to the disturbing rape figures, the report also "contains harrowing accounts of civilians suspected of supporting the opposition, including children and the disabled, killed by being burned alive, suffocated in containers, shot, hanged from trees, or cut to pieces," the UN human rights office said.
In a 12-month period ending November 2015, there were an estimated 10,553 deaths in Unity State – 7,165 of which were due to violence. A total of 829 were caused by drowning. The report noted that the killings appeared to be deliberate, systematic, and based on ethnicity.
In one instance, forces from the Sudan People's Liberation Army (SPLA) reportedly rounded up 60 cattle-keepers and locked them in a container in the compound of a Catholic Church. All but one suffocated within two days.
The report also details accounts of people being burned alive, suffocated in shipping containers, shot, cut to pieces, and hanged from trees.
Although all sides in South Sudan's civil war have committed atrocities that may amount to crimes against humanity, government forces were responsible for the most in 2015, according to the report.
The South Sudanese government has denied those accusations, however, maintaining that its soldiers do not target civilians.
"We condemn in the strongest terms possible any crimes committed against civilians," Ateny Wek Ateny, a spokesman for President Salva Kiir, told the Guardian.
He said the atrocities may have been carried out by militias wearing SPLA uniforms, but stressed that government troops operate under "strict rules of engagement" that prohibit the targeting of civilians.
"The government takes it very seriously and we are investigating to find who has committed these heinous crimes and as soon as we get those who are responsible for committing human rights violations, we will bring them to book," Ateny said.
Meanwhile, Amnesty International's senior crisis adviser, Lama Fakih, said on Friday that the UN's results aligned with her agency's recent findings in Unity State.
"It's clear that South Sudan has a problem with its army and allied militias – who have been raping women and girls and leaving men and boys to suffocate to death in a shipping container," she told the Guardian.
The war in South Sudan began in 2013, when President Kiir accused his former vice president, Riek Machar, of plotting a coup. Fighting quickly broke out between those supporting Kiir, an ethnic Dinka, and those backing Machar, an ethnic Nuer. The conflict has led to the deaths of tens of thousands of people and displaced more than two million. At least 40,000 people have been plunged into famine, and 2.8 million are in need of aid, according to UN's February findings.
You can share this story on social media: