Macedonia slams EU for 'failing security' in unprecedented refugee crisis
Published time: 11 Mar, 2016 19:12
Edited time: 11 Mar, 2016 21:47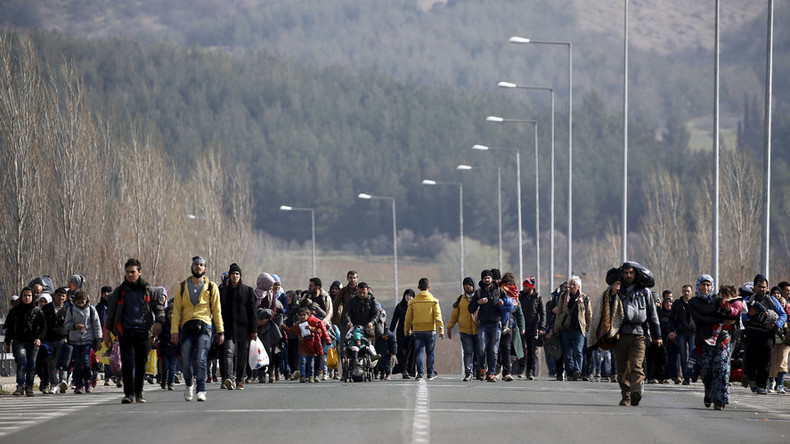 President of Macedonia Gjorge Ivanov has lambasted the EU for "completely losing sight" of security concerns as an unprecedented flood of refugees from war-torn Syria, Iraq, Afghanistan and other countries sweeps through Europe.
"In the refugee crisis, the security situation has been entirely ignored. If we had relied on Brussels rather than react ourselves, we would have been flooded with jihadists," he said in an interview to the German newspaper Bild on Friday.
"Some so-called refugees are travelling through the whole of Europe with false identities, and Greece is simply stamping their papers so that they continue on their journey. We have to assume that many of these people who were travelling with forged papers want to enter the EU via the refugee route as radical fighters," he added.
Ivanov also said his country had so far seized some 9,000 forged or stolen passports, but was denied information sharing on suspected jihadists by EU countries, including Germany.
"In the refugee crisis, there's the humanitarian dimension and the security dimension. [Germany] has completely failed with respect to security. We wanted to share our information about the alleged jihadists with Europe and Germany. But no one wanted our data. We were told: you are a third party country, we must not exchange data with you," he said.
The president also noted that his country had been forced to "pay for the mistakes" of the EU amid the migrant influx.
"We are now paying for the mistakes of the EU. We already had to spend 25 million euros in tax money. We already declared a state of emergency. And what have we received from Europe? Nothing! Not a single cent. Instead, we as a non-EU country now have to protect Europe from an EU country, that is Greece."
The Republic of Macedonia closed its border with Greece earlier this week, after similar moves by other Balkan states. This has effectively stopped the migrant flow to northern Europe, but left tens of thousands trapped and stranded across Greece.
Ivanov also accused the EU of foiling Macedonia's membership hopes for the past 25 years, claiming that in Europe's view, "we're nothing, not an EU country, not in the [visa-free] Schengen zone, not in NATO. A potential EU membership for Macedonia has been discussed seven times already, but there was always an obstruction, caused by Greece. No one in the EU gets along with the Greeks and we are supposed to solve this conflict on our own with this country."
The president pointed out that, in order to stem the refugee influx, Europe must change its methods of dealing with the problem: "The stream of refugees will not end. Everyone is very well informed because of Twitter and Facebook. And what is Europe doing? It takes more than six months to organize a summit alone. By that time, one million new migrants have arrived. […] We have to change. Radically."
The EU has been locked in dispute over ways to cope with the unprecedented flow of asylum seekers that reached more than a million last year as Syrian, Afghan and Iraqi refugees sought to reach the wealthy Germany, Austria and Scandinavia. In the latest proposal, submitted at a summit in Brussels earlier this week, Turkey offered to take back all refugees who cross into Europe from its soil, demanding more money, renewed EU membership talks and quicker visa-free travel for Turkey in return. German Chancellor Angela Merkel and British Prime Minister David Cameron were among those who hailed this offer as a potential breakthrough in Europe's crisis.
Yet many politicians have slammed the EU-Turkey deal, with president Ivanov among them.
"What we are seeing is that Europe does not function in a crisis situation. Brussels takes far too much time to make decisions," he said. "This is why, for instance, some countries along the Balkans route like us had to act on their own. In the future, more countries will have to make decisions sovereignly. Chancellor Merkel has decided to take on the role of savior of Europe on her own. […] Now she wants to achieve a solution together with Turkey. We will see if this works. I am very skeptical in this regard."