Hundreds block key highway in Iraq, demand airstrikes in response to ISIS chemical attack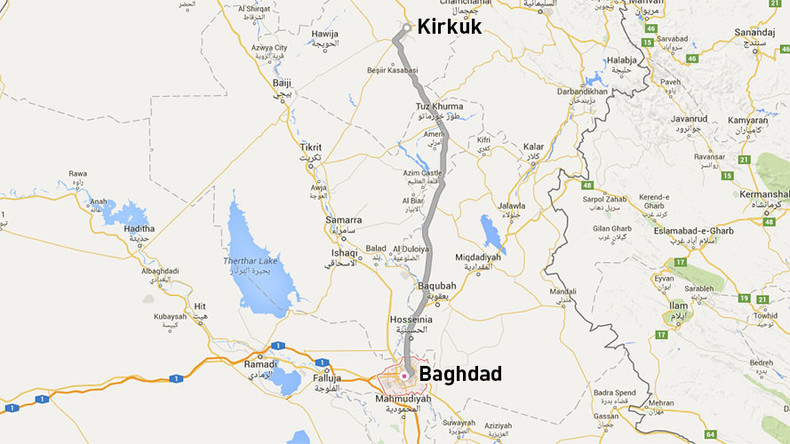 Hundreds of people have blocked Iraq's main highway, demanding retaliation strikes against a town which Islamic State extremists launched a chemical attack from on Wednesday.
"We demand Iraqi air force strikes on Bashir," chanted the crowd that blocked the road between the Iraqi capital of Baghdad and the city of Kirkuk, referring to the village which the militants launched their chemical attack from.
Most protesters came from the village of Taza, which came under Islamic State (IS, former ISIS/ISIL) shelling on Wednesday, during which the jihadists used "poisonous substances." About 200 people were injured in the shelling and 17 Taza residents remain in hospital, according to the head of the Iraqi Kirkuk health directorate, Burhan Abdallah.
"Most of them have been discharged. Only 17 are still in care. One of them is a child in serious condition. They suffer from respiratory problems, burns and rashes," he said, as quoted by AFP.
Protesters blocking the road were also carrying a banner that read "30,000 people in Taza are under daily shelling and the government is silent."
Some local officials claim that the "poisonous substances" used by terrorists could be chlorine, although they stressed that the samples of those materials are still being analyzed.
"The gas was a light silver color and sometimes left some liquid where it landed," one senior security official told AFP on condition of anonymity, adding that "a specialized unit took some samples that are being analyzed."
Taza mayor Hussein Abbas said that the village was shelled by about 45 missiles over three hours on Wednesday.
A local resident told RT that some of the missiles that hit Taza village were presumably equipped with chlorine, while others were loaded with some other kinds of chemical materials. The villagers had to leave their homes and were quickly evacuated to safe areas, he said, adding that local residents are asking the Iraqi government for help and demanding that measures be taken to liberate the Bashir area as soon as possible.
A local doctor also told RT that IS militants had shelled Taza with Katyusha rockets filled with chlorine and other poisonous substances, noting that many people had been injured in the attack, some of whom were suffering from eye lesions and allergic reactions.
Bashir, a majority Shiite Turkmen village just south of Taza, has been under IS control since 2014. It was captured shortly after IS took control of Mosul and Tikrit.
READ MORE: ISIS chemical weapons chief who worked for Saddam Hussein reportedly captured by USA

Most of the area in which the villages of Bashir and Taza are located is officially ruled by the Iraqi federal administration, but is de facto controlled by Iraqi Kurdish forces.
The governor of Kirkuk, Najm al-Din Karim, stated that regaining Bashir from Islamic State would require joint actions of all anti-IS forces.
"The issue of Bashir's liberation needs a decision that should be made by [the Iraqi] Prime Minister [Haider al-Abadi], coalition forces and the brothers of the Kurdistan Regional Government," he said.
IS shelling of Taza on Wednesday came just a day after the Syrian Kurdish militia YPG claimed that Islamist opposition fighters used yellow phosphorous in a chemical attack on the Sheikh Maqsood neighbourhood, located near the city of Aleppo in neighboring Syria.
On Wednesday, it was revealed that in a February raid the US captured the head of the Islamic State chemical weapons division, identified as Sleiman Daoud al-Afari, who earlier worked for Saddam Hussein, the AP reported.
Under interrogation, he reportedly acknowledged that IS had weaponized sulfur mustard and loaded it into artillery shells. Pentagon spokesman Navy Capt. Jeff Davis said the sulfur mustard used in a powder form in projectiles creates a dust cloud that "can primarily aggravate but in large doses can absolutely kill" when detonated.
Last month, the Organization for the Prohibition of Chemical Weapons (OPCW) said that IS militants attacked Kurdish forces in Iraq with mustard gas in 2015, citing lab tests that came back positive for the substance.
Last October, the OPSW also stated that the militants used mustard gas in neighboring Syria in 2015. Experts believe the mustard gas used in Syria originated from an undeclared chemical stockpile, or that militants have gained the basic knowledge to develop and conduct a crude chemical attack with rockets or mortars.
You can share this story on social media: