North Korea fires two missiles into Sea of Japan, cuts cooperation with South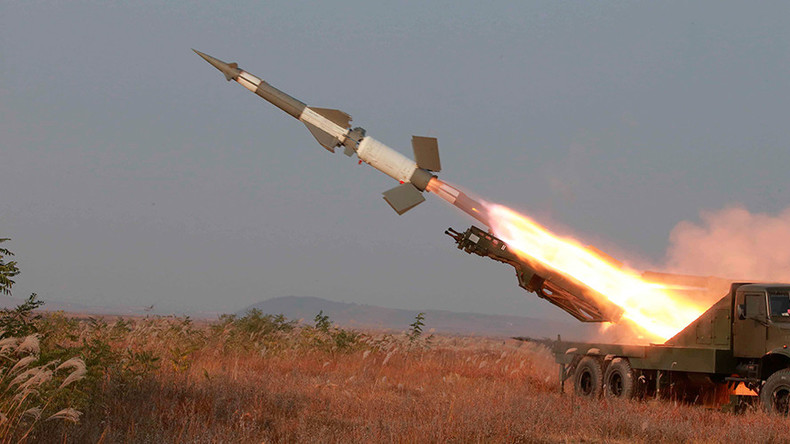 North Korea has fired two short-range ballistic missiles into the East Sea, according to the South Korean military. The launch comes amid the biggest ever joint US-South Korean war drills, which the North views as infringing on its sovereignty.
The missiles were fired around 5:20 a.m. local time (8:50 p.m. GMT) from North Hwanghae province. The rockets reportedly flew some 500km before landing in the East Sea (Sea of Japan) northeast of the city of Wonsan in South Korea, Yonhap news agency reported.
"The military is keeping close tabs on the situation and is prepared to deal with any North Korean provocations," said the South's Joint Chiefs of Staff in a statement.
Japan lodged a protest with North Korea following the launch at the country's embassy in China, Kyodo news agency reported. Japan's Prime Minister Shinzo Abe also summoned an emergency national security meeting after the launch.
During a meeting with nuclear scientists on Tuesday, North Korean leader Kim Jong-un reiterated his threat to resort to preemptive nuclear strikes in the event of aggression from the US. Kim claimed that Pyongyang had managed to construct a miniature warhead that can be fitted onto a ballistic missile.
Pyongyang's recent belligerence appears to be a response to the joint US-South Korean military drills. More than 300,000 South Korean and some 15,000 American troops are involved in the so-called Key Resolve and Foal Eagle exercises that began on Monday and are set to last until April 30. The drills, which involve training for amphibious operations and wartime missions, are aimed at working out a best response to possible aggression from North Korea.
Ahead of the maneuvers, the North warned that it would launch "a preemptive and offensive nuclear strike" against the allies in the case of provocation.
The exercises were also condemned by the Russian Foreign Ministry, which said they only serve to escalate the situation on the Peninsula.
READ MORE: S. Korea accuses North of hacking railway systems and officials' phones

"Naturally, North Korea as a state, which is directly referred to as the object of such military activity, can have rational concerns for its security," read the ministry's statement, which was published on Monday. "Russia has repeatedly publicly declared its opposition to such manifestations of military and political pressure on Pyongyang," it added.
Tensions on the Korean Peninsula have been growing since Pyongyang's announcement that it had successfully conducted a nuclear test on January 6. The North then fired a long-range missile allegedly bringing an earth-observing satellite into orbit on February 7.
In response, the UN Security Council passed a new resolution last Wednesday condemning North Korea's saber-rattling and imposing a new package of harsh economic sanctions on the Hermit State. The measures include stepped up cargo inspections and bans on exporting products to North Korea that could directly contribute to the operational capabilities of the country's military.
Pyongyang ceases all cooperation with Seoul, 'liquidates' Kaesong
Hours after the launch, North Korea announced that it is annulling all cooperation agreements with the South, and will "liquidate" all of the assets owned by South Korean companies on its territory, Reuters reported.
The statement primarily refers to the Kaesong industrial zone located on the border between the two Koreas, which for years has served as a symbol of cooperation. Seoul suspended its participation in the project in retaliation for Pyongyang's latest nuclear test and a rocket launch.
"From this moment, we will view all agreements which the two Koreas have made on economic cooperation and exchanges as invalid," said a statement published by the North's official KCNA news agency, as quoted by Yonhap.
Pyongyang's Committee for the Peaceful Reunification of Korea, which was behind the statement, also made a vague threat to Seoul, promising to deal "a devastating end to [President] Park Geun-hye and her party."
The Kaesong Industrial Park was designed to alleviate tensions on the Korean peninsula. It was opened in 2004 and lauded as a breakthrough project symbolizing collaboration between the rivaling neighbors.
In the days after Seoul announced that it was suspending its operations at the park, South Korean workers were ordered to leave and all the South's assets at the Park were frozen. Their estimated value amounts to 820 billion won ($663 million). Kaesong provided employment for more than 53,000 North Korean workers, who manufactured products ranging from textiles to electronics.
You can share this story on social media: