Merkel deputy slams Donald Trump as 'threat to peace'
Published time: 6 Mar, 2016 13:41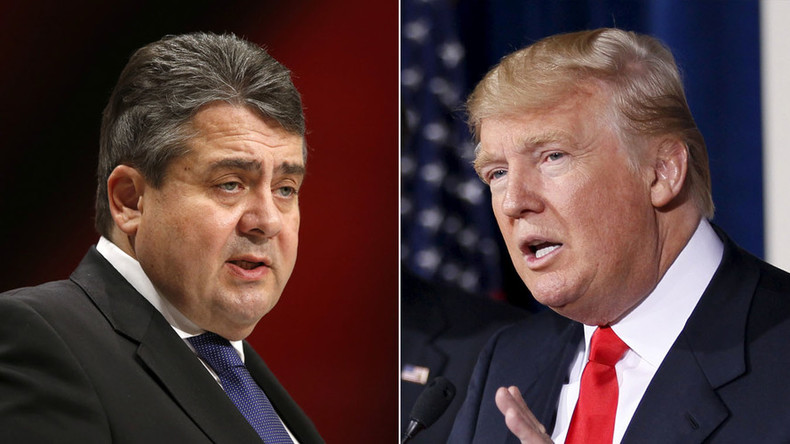 German Vice Chancellor Sigmar Gabriel has attacked Republican presidential candidate Donald Trump saying he poses "a threat to peace" as well as "economic development." In February, Trump criticized Chancellor Angela Merkel for her refugee policy.
The German vice chancellor took aim at Trump and also right-wing politicians in Europe, saying they were all a threat to "social cohesion." Gabriel made the comments in an interview with the German publication Welt am Sonntag, published on Sunday.
"Whether Donald Trump, Marine le Pen or Geert Wilders - all these right-wing populists are not only a threat to peace and social cohesion, but also to economic development," Gabriel said, as cited by Reuters.
He also slammed Trump's isolationist policies for promising voters "a way back into a fairytale world," adding that history shows that countries that opt for isolation have little chance to develop.
"We have to make the effort to explain how we want to shape globalization in a fair way," Gabriel said.
In February, Trump lambasted Chancellor Merkel for admitting hundreds of thousands of migrants, saying the decision could lead to "the end of Europe."
The real estate billionaire was speaking to the French conservative magazine Valeurs Actuelles, saying the German chancellor had made "a tragic mistake with the migrants."
"If you don't treat the situation competently and firmly, yes, it's the end of Europe. You could face real revolutions," Trump was quoted as saying, according to Reuters.
On Friday, Trump was on the receiving end of a blistering attack from former Republican presidential nominee Mitt Romney, who called on the party to disavow the property tycoon.
Speaking at the Hinckley Institute at the University of Utah, the former Massachusetts governor said America's prospects for a safe future are "greatly diminished" if Donald Trump becomes the Republican nominee for president.
"His is not the temperament of a stable, thoughtful leader. His imagination must not be married to real power," Romney said, branding Trump "a phony, a fraud" whose "promises are as worthless as a degree from Trump University."
"He's playing the American public for suckers: he gets a free ride to the White House and all we get is a lousy hat," Romney added.
.@MittRomney was a disaster candidate who had no guts and choked! Romney is a total joke, and everyone knows it!

— Donald J. Trump (@realDonaldTrump) March 5, 2016
The 2012 GOP presidential candidate urged his party to vote for any of Trump's rivals for the nomination.
"The only serious policy proposals that deal with the broad range of national challenges we confront today, come from Ted Cruz, Marco Rubio, and John Kasich," Romney said. "One of these men should be our nominee."