Syrian opposition groups seek Russian protection from ISIS – MoD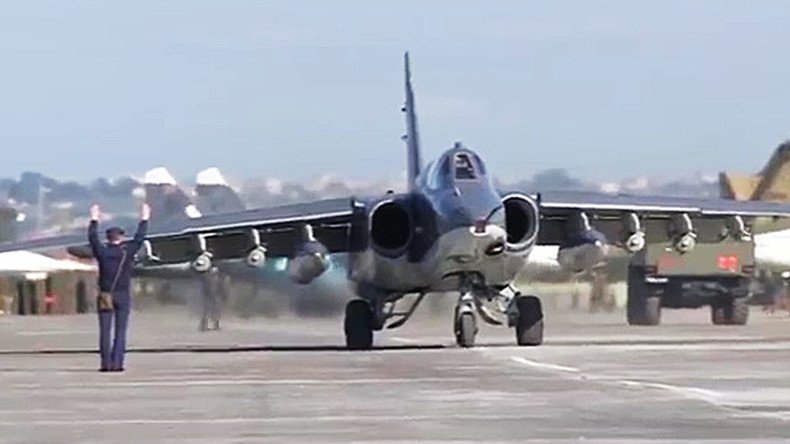 A number of Syrian opposition groups are seeking Russian protection from Islamic State (IS, formerly ISIS/ISIL) jihadists who are on the hunt for those who signed the ceasefire deal, according to the Russian military.
"They are asking us to provide their security and defend them from militants of the ISIS group and other terrorist organizations who declared a manhunt for opposition figures signing ceasefire agreements," the head of the Russian truce center in Syria, Lieutenant General Sergey Kuralenko told reporters on Saturday.
"From our part, we will help ensure the security of the leaders of the Syrian opposition units and heads of local administrations who signed agreements to end fighting and to start the reconciliation process," he added.
Kuralenko also said that Russian representatives have held 23 meeting with opposition forces since opening the Russian Reconciliation Center at the Khmeimim air base last week.
Meanwhile a number of Syrian opposition factions proposed that a group be created to work on a draft constitution during a Saturday meeting held at the base. The meeting included members of the movement For Democratic Syria, leader of the National Conference and religious leaders from various groups, according to TASS news agency.
Participants of the meeting agreed that according to a new constitution Syria should be a sovereign and secular state.
"Despite the remaining disputes, the meeting participants share common views on Syria's future. It is a secular state with its maintained integrity and sovereignty," TASS cited an unnamed participant of the meeting as saying.
The parties at the conference are said to have stressed that the ceasefire pushed for the launching of political dialogue in Syria and praised Russia's role in peace efforts.
"We know that Russia is playing a great role in reaching cessation of hostilities in the Syrian Arabic Republic and exerting pressure on all the parties of the conflict to establish peace. Russia is communicating with all parties to encourage them for political solution (of the conflict)," said Sheikh Anas Taual, moderate opposition leader from the town of Baila in Damascus province. The comments were released by the Russian Defense Minister Saturday.
The ceasefire in Syria, pushed for by Russia and the US came into force last week with the UN Security Council having adopted a resolution that endorsed the cessation of hostilities between parties of the conflict. The ceasefire does not include internationally recognized terrorist organizations such as IS and Al-Nusra Front.
According to the Russian Defense Ministry's website, around 30 opposition groups joined the truce and six more are now discussing possible armistice. At the same time the ministry every day registers violations of the ceasefire – with most of them committed in the Aleppo province.
You can share this story on social media: