Tagging Banksy: Criminology technique allegedly unmasks elusive graffiti artist
Published time: 4 Mar, 2016 11:22
Edited time: 4 Mar, 2016 11:25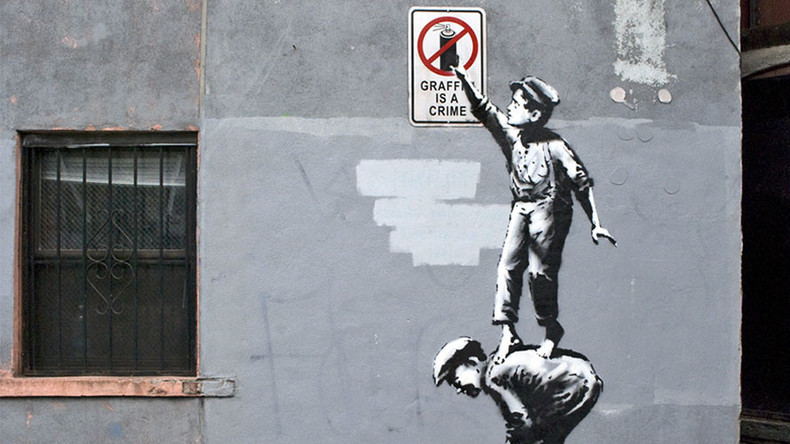 Reclusive street artist Banksy has been playing hide-and-seek with British authorities for years, in an effort to conceal his identity. A new study claims to have identified him, using a technique developed in criminology to track down serial offenders.
A group of scientists at Queen Mary University of London explained in their study (in the Journal of Spatial Science), they had used the so-called "Dirichlet process mixture (DPM) model of geographic profiling." This is a mathematical technique developed by criminologists. Researchers analyzed the spatial patterns of Banksy's artworks in Bristol and London and matched them up to places where a short list of suspects lived and worked. All the locations, a pub, playing fields and several residential addresses among them, led to a man called Robin Gunningham. The researchers concluded, with a fair degree of certainty, that Mr Gunningham is Banksy.
"Our analysis highlights areas associated with one prominent candidate (e.g., his home), supporting his identification as Banksy. More broadly, these results support previous suggestions that analysis of minor terrorism-related acts (e.g., graffiti) could be used to help locate terrorist bases before more serious incidents occur, and provides a fascinating example of the application of the model to a complex, real-world problem," they wrote.
Publication of the study, entitled Tagging Banksy, was delayed after Banksy's lawyers reportedly contacted the university, apparently voicing concerns over how the study would be promoted.
The first report claiming to identify Banksy as Gunningham, an artist originally from Bristol, appeared in 2008 in the Daily Mail. The newspaper said it managed to identify the "guerrilla artist" from an old photograph taken in Jamaica, showing a man kneeling by a spray can.
Banksy made his name as an unconventional, daredevil artist in 2006, when he "smuggled" a life-size replica of a Guantanamo Bay prisoner into California's Disneyland. He was aiming to raise awareness of the plight of suspects held at the notorious US detention center in Cuba.
Last year, the English graffiti artist, who never appears with his art, brought his politically charged message to the bombed-out neighborhoods of Gaza. His series of signature murals highlighted the desperation felt by Palestinians.
Last December, the renowned artist chose to draw attention to the massive refugee crisis in the EU. An effigy of Steve Jobs popped up on a wall in a camp in Calais, serving as a reminder that one of the world's most influential business leaders was the son of a Syrian migrant.
A few days after Banksy created his latest work at the notorious 'Jungle' camp, refugees assumed the graffiti could help them earn some cash, and went as far as charging RT to view the artwork.