Erdogan's son abandoned Bologna over 'security' reasons - report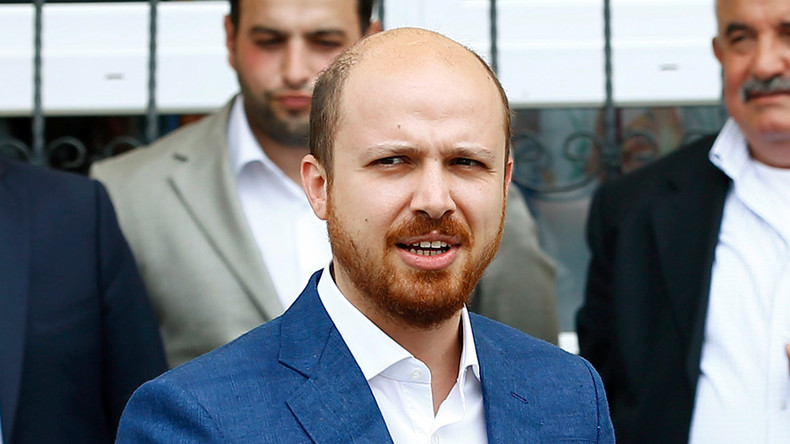 Turkish President Recep Tayyip Erdogan's son has reportedly been forced to return home from Italy due to security concerns, with a money laundering investigation being conducted against him by Italian authorities perhaps a more plausible reason.
Bilal Erdogan, 35, who has been in Bologna with his family since last autumn, texted his friends in Turkey, telling them he has to return with his family, according to local media.
"Our security in Bologna has become a very sensitive issue both for the Italian and the Turkish government," he allegedly texted one of his friends, Resto del Carlino reported. The text message ends with a promise to return to Italy one day when things there are more "peaceful."
Bilal said he went to Bologna with his wife and children to finish his PhD studies at Bologna's Johns Hopkins University.
However, critics say that in 2013 he was involved in a massive graft scandal linked to Turkey's ruling AKP party, where Bilal was complicit in a money laundering scheme endeavoring to bypass United States-led sanctions on Iran.
The complaint filed in February by Erdogan's detractors alleges that €1 billion from the corrupt scheme is still unaccounted for.
Soon after Bilal Erdogan's arrival in Bologna, Turkish whistleblower Fuat Avni said on Twitter that Bilal flew to Italy with cash, saying: "They [the Erdogan family] are planning to keep Bilal in Italy until the election. They will determine whether he will be coming back according to the situation after the election [in November]."
Prosecutors in Bologna opened an investigation into allegations of money laundering by Bilal Erdogan after a key opposition member in Turkey alleged the 35-year old took large amounts of money to Italy last September.
The claim was made in September 2015 by Turkish businessman Murat Hakan Huzan, whose brother Cem Huzan founded Turkey's Youth Party. A political opponent of President Tayyip Erdogan, Murat Hakan Huzan is living in exile in France.
In 2013, Turkish investigators arrested numerous top officials and members of their families on corruption charges. A total of 52 people, including several family members of cabinet ministers, were detained. Fourteen were accused of bribery, corruption, fraud, money laundering and gold smuggling. Among the suspects were many close friends of Bilal Erdogan and the Turkish president's son himself was said to be a suspect.
Soon afterwards, in February 2014, Turkey was stunned with an audio recording posted on YouTube, in which President Erdogan was reportedly heard telling Bilal to get rid of tens of millions of dollars in case the investigators came to his house. The president described the recordings as a "vile montage," according to AFP.
You can share this story on social media: