Almost 2,000 court cases opened in 18-months for 'insulting' Turkish President Erdogan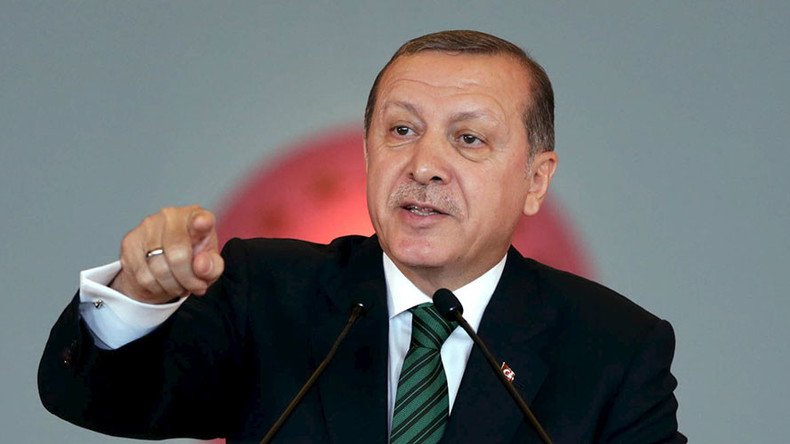 Around 2,000 legal cases have been opened in Turkey for insulting Recep Tayyip Erdogan, since he became president 18 months ago. Mocking the president carries a maximum of four years in jail with schoolchildren and journalists amongst those arrested.
The revelations were made by Turkish Justice Minister Bekir Bozdag, who said the ministry had allowed 1,845 cases on charges of insulting Erdogan to proceed, Reuters reports.
"I am unable to read the shameful insults made against our president. I start to blush," said Bozdag, who is a member of Erdogan's ruling Islamist-rooted AK Party.
Those convicted of insulting the Turkish leader could receive a maximum prison sentence of four years. However, before Erdogan became president in August, 2014, the law was rarely invoked. Those critical of the president say he is using the legislation to crack down on dissent.
People of all ages have fallen foul of the law. In February, a 13-year-old boy was briefly detained on charges of "insulting" the president on Facebook. The teen's social media page had been under surveillance for months by police.
His family's house was raided by anti-terror teams on February 25, following a tip-off from "a secret witness," who claimed the boy had insulted Erdogan in a comment he allegedly posted below a video on Facebook.
In October, two boys aged 12 and 13 were arrested and are facing up to four years in prison for ripping up posters of the Turkish leader.
Former Turkish football star Hakan Sukur is also facing jail time for insulting the Turkish president on Twitter. Although Turkey's record goal scorer said he had not intended to target the president, prosecutors argued his tweets were "clearly related" to the Turkish leader, the Dogan news agency reported in February.
It would also seem that criticizing Erdogan in the privacy of one's own home is also illegal. Last month, a 40-year-old man filed a legal complaint against his own wife for insulting the Turkish president.
"I kept on warning her, saying why are you doing this? Our president is a good person and did good things for Turkey," the man known as Ali D. said.
The wife reportedly provoked legal action against herself by telling her husband to "record and lodge a complaint" if he dislikes her behavior so much.
Ali recorded his wife's "insults" and enclosed them as evidence in the case, when he lodged a complaint with prosecutors in the city of Izmir.
"Even if it is my father who swears against or insults the president, I would not forgive and I would complain," the man told the Yeni Safak publication.
You can share this story on social media: