Trump releases healthcare plan, vows to 'completely repeal Obamacare'
Published time: 3 Mar, 2016 12:39
Edited time: 4 Mar, 2016 17:58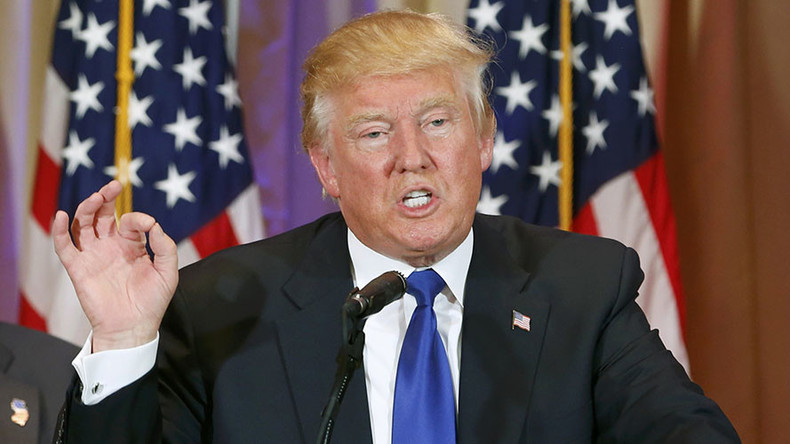 GOP presidential front-runner Donald Trump has released his healthcare plan, in which he says he will "completely repeal Obamacare." The proposal is being welcomed by Republicans, who have aimed to overturn the healthcare policy since its inception.
Of the proposals listed in the seven-point plan, Obamacare receives the most stage time, with Trump making the bold claim that it has "raised the economic uncertainty of every single person residing in this country."
"...The American people have had to suffer under the incredible economic burden of the Affordable Care Act – Obamacare. This legislation...has tragically but predictably resulted in runaway costs, websites that don't work, greater rationing of care, higher premiums, less competition and fewer choices," Trump wrote in the plan, which was posted to his website on Wednesday.
He goes on to state that the Trump administration will ask for a full repeal of the healthcare plan on "day one" of the presidential term.
However, the presidential candidate stresses that repealing the "terrible legislation" will not be enough.
"We will work with Congress to make sure we have a series of reforms ready for implementation that follow free market principles and that will restore economic freedom and certainty to everyone in this country," he states.
In addition to repealing Obamacare, Trump promises to allow for any healthcare provider to offer insurance in any state.
However, former health insurance executive Wendell Potter told RT that despite Trump's claims, there is currently "no federal law that prohibits insurance companies from selling across state lines."
"The two companies that I worked for over 20 years – Cigna and Humana – sell in almost every state, and what we need to know is that because there is no federal law that prohibits this, it's really the states that are regulating health insurance. And the president of the United States, whether it's Hillary Clinton or Donald Trump, will not be able to dictate what those states do, so it's just kind of an absurd thing," Potter said.
In addition, Trump has promised to allow individuals to fully deduct health insurance premium payments from their tax returns; allow individuals to use Health Savings Accounts (HSAs); require price transparency from all healthcare providers; convert Medicaid into a block-grant program; and remove entry barriers into free markets for prescription drug providers.
Elaborating on those points, Trump says that "no person should be required to buy insurance unless he or she wants to," but that those who do purchase it should be able to "fully deduct health insurance premium payments from their tax returns."
"We must make sure no one slips through the cracks simply because they cannot afford insurance," he adds.
The presidential hopeful also manages to tie the topic of immigration – a key focus of his campaign – into the plan, stating that "providing healthcare to illegal immigrants costs us some $11 billion annually. If we were to simply enforce the current immigration laws and restrict the unbridled granting of visas to this country, we could relieve healthcare cost pressures on state and local governments."
In conclusion, Trump says that "Congress will need the courage to step away from the special interests and do what is right for America."
LISTEN MORE: