'I don't want your blood money': Pope says church won't take donations from exploitation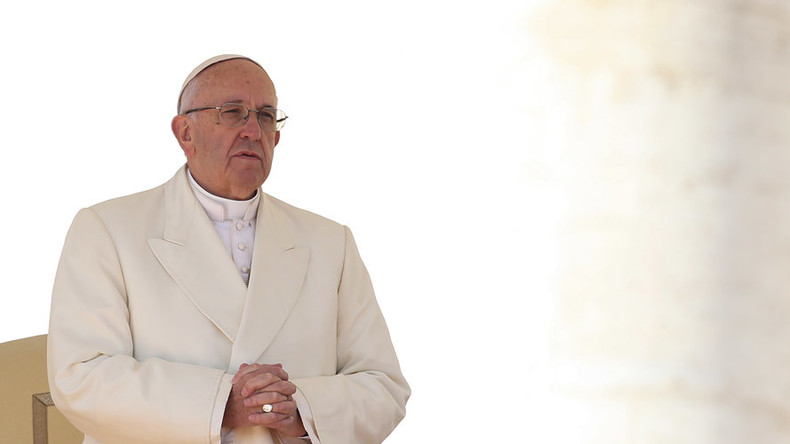 Pope Francis says the Catholic Church won`t accept donations if contributors profit from underpaid labor. The pontiff, who earlier called money the 'dung of the devil', stressed the Church needs "hearts that are open to God`s mercy," not "dirty money."
Francis, known for his concern for the poor and his harsh anti-capitalist rhetoric, made his comments on ill-gotten gains during a weekly address to crowds gathered in St. Peter`s Square in the Vatican.
"Some donors come to the Church offering profits from the blood of people who have been exploited, mistreated, enslaved with badly paid work," said Francis, adding the Church would not accept such contributions as the "People of God don`t need their dirty money."
Francis is known as a vocal critic of the flaws of capitalism. Last year, the Pope delivered a passionate speech on poverty during his visit to Chile, in which he denounced the existing socioeconomic system as "intolerable," and urged his followers to create an economy that would be at the "service of people" rather than at the "service of money."
The Pope argued that once people began to focus only on gaining profits, it becomes an "idol" and the "greed for money" undermines society.
He also repeatedly warned of the perils of "new imperialism" imposed by big corporations and agencies that enforce austerity programs. Francis advocated the necessity of fairer redistribution of wealth.
READ MORE: Pope Francis: UN should encourage 'legitimate' redistribution of wealth
These kinds of remarks have earned him the reputation of being a leftist. However, the pontiff insists he only preaches the social doctrine of the Church.
"Maybe I have given an impression of being a little bit to the left. But if they want me to recite the Creed, I can!" Francis said in an interview ahead of his visit to the US in September 2015.