Bloody Sunday: UK paratroopers questioned over murder of 13 Irish civilians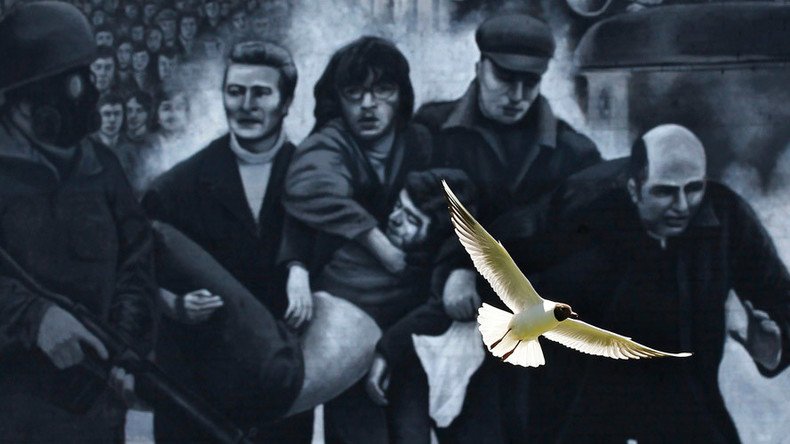 Eight former British paratroopers will be interviewed by the Police Service of Northern Ireland about the murder of 13 civilians during the infamous 1972 Bloody Sunday massacre in Derry.
As part of an ongoing murder inquiry, the PSNI will question the men next month.
The move comes following the arrest of another British soldier in September 2015 for his role in the killings. The 66-year-old was later released on bail.
Although the men, who were members of the 1 Parachute Regiment, contributed to the 12-year independent Saville Report, and were granted immunity from prosecution for doing so, they will now face fresh questioning over murder and conspiracy to murder.
During their questioning however, investigators with the PSNI will be unable to use information gathered during the inquiry as part of their investigation, which was an assurance sought by the men's lawyers.
READ MORE: MI5 destroyed evidence of teen's shooting by Belfast police, secret report reveals

Police wanted to interview the former soldiers in Northern Ireland, but in December 2015, the men applied to London's High Court for a judicial review against the PSNI Chief Constable, claiming their lives would be at risk if they traveled to the occupied six counties to be interviewed.
The order was granted to conduct the interviews in England and Wales, so the PSNI will now travel to mainland Britain to conduct their interviews at taxpayer expense.
READ MORE: Northern Ireland 1972: A 'model' of sectarian 'divide & rule'

The PSNI's investigation was launched in 2012, two years after the Saville Report, which found that the British army was entirely to blame for the deaths of 13 civilians on January 30, 1972.
A fourteenth person died a number of months later from wounds received that day.
The report stated that no advanced warning had been given by the soldiers and that those killed had posed no threat to the soldiers at the time.
A petition seeking immunity for all troops involved in the Bloody Sunday massacre has received over 25,000 signatures and calls for the investigation into the crimes committed to "cease forthwith" and that the soldiers involved "be exonerated".
On this day in 1983, U2 released their War album. #80s Included their 1st international hit single "Sunday Bloody Sunday".

— Old School 80s (@OldSchool80s) February 28, 2016
You can share this story on social media: