Calais police ignore injured migrant, RT UK crew comes to rescue
Published time: 29 Feb, 2016 20:20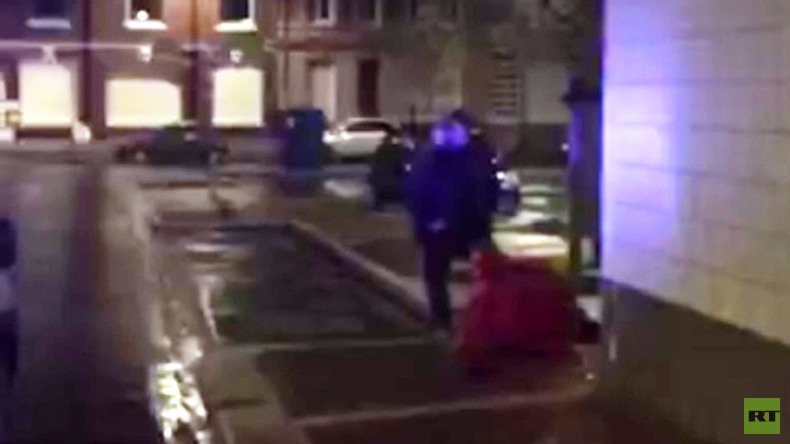 An asylum seeker at a Calais migrant camp was in need of urgent assistance, after he hurt his leg. However, the city's police ignored his pleas for help. RT UK footage shows a police car driving away and leaving the migrant to the whims of fate.
RT UK correspondent Polly Boiko and an operator were making a report about the consequences of the demolition of the Calais 'Jungle' migrant camp last week, when they saw a crowd of people heading towards the Eurotunnel, through which many hope to reach UK soil.
Police then deployed tear gas in a bid to disperse the crowd. RT's journalists noticed that one of the migrants happened to hurt his leg while he was running away from the police.
According to Polly Boiko, police officers drove away without taking any actions to help the migrant.
"They left the man moaning in pain. We called an ambulance and waited for at least 15 minutes for it to arrive. I even called the second time and asked where the car was, because it seemed they were not in a real hurry," Boiko said.
The journalists left the area after the injured man was taken to the hospital.
Various camps around Calais, France, have opened and closed several times since 2002. The latest in the series of such camps was erected in April 2015 by migrants after it was estimated that over a thousand had been stuck in the town trying to illegally pass into the UK.
The "Jungle" camp had been the subject of controversy and has drawn criticism from the French as dangerous incidents, such as fires, brawls, riots, ended up occurring frequently in the area. Recently it was decided by the French authorities that part of the camp would be demolished – that which stands adjacent to the motorway used by trucks en route to Britain.
The latest in the attempt to rebel against the authorities' decision to demolish the camp resulted in violence on Monday. Clashes between police and migrants erupted as French authorities began the demolition process of the "Jungle" camp. Over 100 armed police officers are said to be trying to keep angry migrants out of the area using water cannons and tear gas. Dozens of migrants and activists are reported to have thrown stones at police.
The demolishing of the camp began after a French court in Lille ordered that refugees resettle from the self-erected camp. The French authority's decision to dismantle the area has drawn criticism from migrants and the Help Refugees charity who says that there are not enough alternate places to relocate the affected asylum seekers.
The "Jungle" serves as a temporary home for over 5,000 asylum seekers, the Help Refugees website reports. It is the largest makeshift camp in Europe and has gradually turned into a small town with its own social life.