Japanese nuclear reactor shuts down 3 days after restart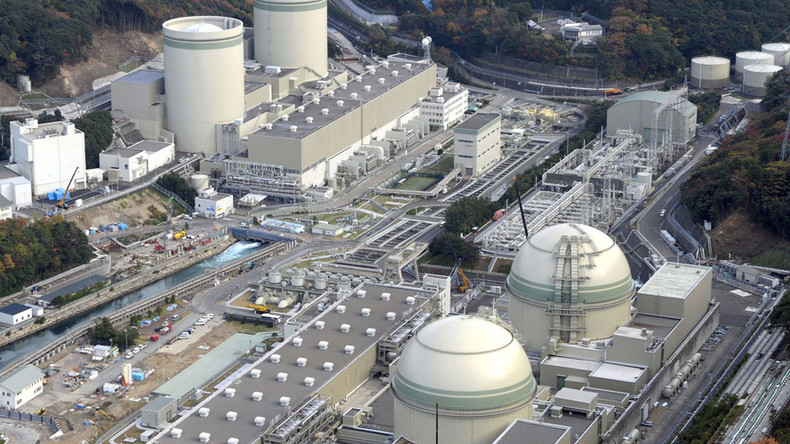 A reactor at Japan's Takahama plant shut down automatically due to "a problem with a generator," triggering an alarm. The plant saw a radioactive water leak a week ago, amid a government push to restart reactors five years after the Fukushima disaster.
Japanese utility Kansai Electric Power Company (KEPCO) said its Takahama's fourth reactor shut down on Monday due to a problem, three days after it was restarted, Japan Times reported.
There is no problem with the reactor's cooling system, the company said. KEPCO was trying to send power to the grid from the reactor when the turbine shut down, which led to the automatic shutdown of the entire reactor, a company spokesman said. He added the company does not know yet when the reactor would be ready to restart.
The No. 4 reactor at the plant, located some 380 km from Tokyo, was brought back online last Friday.
Shortly after, Kansai said it discovered an 8-liter pool with traces of the contaminated water across the floor, indicating that a total of 34 liters had managed to spill. This amounts to about 64,000 becquerels of radioactive waste.
The 30-year-old No. 4 reactor at Takahama has been idle since the 2011 shutdown, following a decision to take all Japanese reactors offline for scheduled backups. Takahama's No. 3 reactor was activated earlier in January. Another two reactors at the Kyushu Electric Power Co.'s Sendai plant were restarted last year.
In March 2011, following the devastating tsunami and earthquake that shut down Fukushima Daiichi, the government introduced strict new safety checks. But, apparently, not every reactor lucky enough to pass the new standards was returned to normal operation.
The Takahama No. 4 reactor would have been the fourth to come online after the nationwide shutdown. The push by the government and utility companies came amid protests across Japan against continued reliance on nuclear energy, fueled by a failure to tackle the Fukushima crisis in a proper way.