#EddieWouldGo: $75k waves and wipeouts at surf's wildest competition (PHOTOS, VIDEO)
Published time: 28 Feb, 2016 15:26
Edited time: 29 Feb, 2016 14:58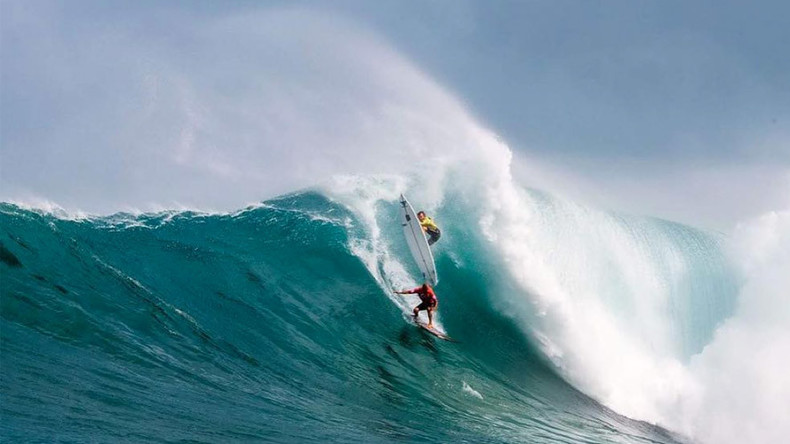 One plucky surfer has bagged himself a $75,000 prize, riding monster swells as high as 60 foot in a Hawaiian big wave competition held for a fallen surfing hero.
Legendary Hawaiian lifeguard Eddie Aikau is considered a surfing deity by his fellow sportsmen, which is why the colossal wave competition honoring him was delayed for seven years until conditions were ripe for high rollers.
Thousands of spectators turned out to the North Shore event as thrill-seeking surfers took to the waves – some of the biggest yet in the competition's history.
Hawaii's John John Florence was declared the 2016 event's champion for "bringing a new style" to the competition, managing to catch waves up to 60 feet in height, event sponsor Quiksilver reported.
The 23-year-old Hawaiian native becomes the youngest person to win the 31-year-old competition and received a prize of $75,000.
Fans were treated to epic surfing and even crazier wipeouts.
Eddie Aikau's untimely death at the age of 31 contributed to his cult-hero status.
The master of the waves was the first official lifeguard to man Waimea Bay on the Hawaiian island of Oahu and is credited with saving many lives, according to the foundation set up in his honor. He died in a boating accident in 1978.
According to Quiksilver, waves need to be as high as 40 foot for the commemorative competition to be given the go-ahead. Since the wave height rule is so strict, the competition has only been held nine times since 1984.
Aikau is remembered fondly for riding massive waves other surfers would not dream of taking on, a characteristic captured in the tagline of Thursday's competition: "#EddieWouldGo".