Swiss vote down plan to expel foreigners for committing crimes
Published time: 28 Feb, 2016 11:39
Edited time: 28 Feb, 2016 18:51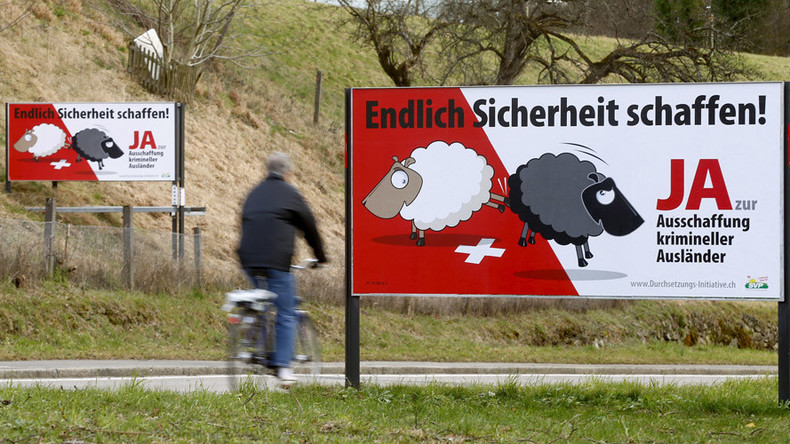 Swiss citizens have voted in a referendum that would have authorized the automatic deportation of foreigners who commit crimes, with final results showing that the majority of the population is opposed to the crackdown.
"The initiative was declined by 58 percent of the votes," André Simonazzi, a spokesman for the Swiss Government, said at a press conference, as cited by Sputnik.
According to the Swiss Radio and Television (SRF) channel, 58.9 percent rejected the proposal, with 41.1 percent approving.
According to exit poll data earlier revealed by SRF, the majority of the Swiss do not back the controversial proposal that would make it easier to expel foreigners that committed crimes, ranging from anything from speeding to murder.
Projections from exit polls indicated that 59 percent of residents opposed the expulsion plan, SRF reported after the polls closed Sunday.
As of mid-Sunday, the voters were seen as likely to reject the "Yes" vote, according to initial exit poll data by Swiss Radio and Television (SRF), Reuters reports.
A 2010 deportation initiative, also launched by SVP and approved of by 52 percent of voters, included immediate expulsion of foreigners who commit grave crimes such as rape or armed robbery.
The 2016 referendum comes amid growing unease at rising immigration in Switzerland, as well as social and welfare problems, which SVP claims have been brought in by migrants. The party launched an initiative "For the effective expulsion of foreign criminals," promoted by posters reading "Finally, create security!" and showing a "white" sheep on top of the national flag kicking away a "black" sheep.
The Federal Council, Switzerland's major executive body, dubbed SVP's initiative "inhuman, because it treats the roughly 2 million foreigners who live in Switzerland as second-class citizens."
Opponents of the controversial initiative say the law, if passed, will create a two-tier justice system which will unfairly treat any foreigner as a potential criminal. They utilized emotional visual signs to promote the "No" vote – one of the posters included an image of a tattered swastika and putting "Switzerland 2016" next to 1933 Nazi Germany and 1948 apartheid South Africa.
According to a February poll by Swiss Radio and Television (SRF), public attitude towards the SVP's initiative was quite divisive – 46 percent would vote "Yes," with 49 percent voting "No."
More than 5 million people in Switzerland are entitled to vote, excluding over 2 million foreigners residing in the country. If "Yes" vote prevails, Switzerland would become the European country introducing the strictest immigration laws. The Alpine country has already introduced another controversial measure targeting migrants. In January, it was revealed that refugees arriving in Switzerland will have to turn over any assets they possess which are worth more than 1,000 Swiss francs ($997).
Switzerland is not part of the 28-member European Union but it is part of the Schengen border-free zone.