'As long as Russia is our neighbor': Latvia wants to host NATO tanks ready for battle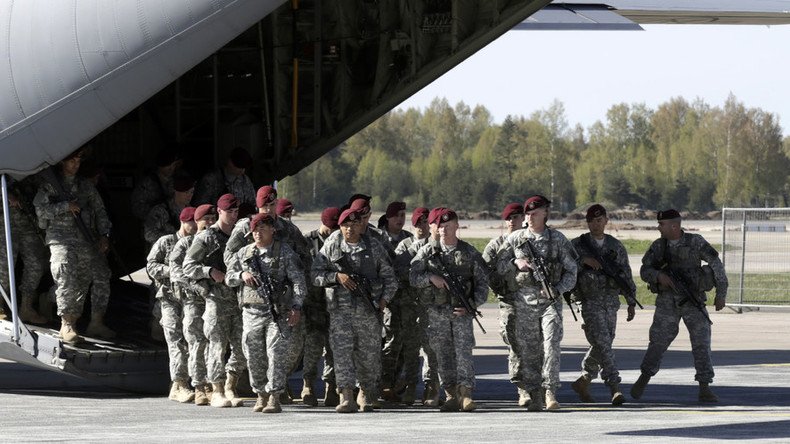 Eastern European counties have asked NATO to deploy extra troops that could start fighting against Russia without formal approval from HQ, Latvian Foreign Minister Edgars Rinkevics said in an interview to the Washington Post.
Latvia and its immediate neighbors would like to see "a very blunt and strong statement" from NATO that would assure Baltic countries that the military alliance would offer its protection "as long as necessary, while we have such a neighbor," Rinkevics said during a visit to Washington on Friday.
Rinkevics called for more NATO troops on the ground – currently the country hosts about 100 on a rotational basis. He added that heavy weaponry such as tanks should be placed in Baltic countries in advance as well.
The reason for the militarization of Latvia, Rinkevics argues, is a "real need" to "defend the country" before full NATO reinforcements could arrive.
The suggestion appears to be against the spirit if not the letter of NATO's agreement with Russia signed in 1994, which bans the military alliance from placing "significant" forces in Eastern Europe on a permanent basis. NATO rotates troops deployed close to Russia's borders, which formally does not violate the deal, but Moscow may not turn a blind eye to this if the ongoing military buildup continues.
The Latvian foreign minister justified his call by the threat of Russia's alleged "hybrid" warfare, citing "deliberate attempts to target the whole society" in the region. To exemplify such hybrid action, Rinkevics said Russia backed cultural and sport programs aimed at ethnic Russians living in his country and supported media that reported favorably on the living conditions in Russia as compared to those in the EU. As a response, Baltic countries set up a center for training their journalists in what the official called international standards of journalism.
Rinkevics' statements come ahead of NATO's July summit in Poland. Warsaw is expected to officially voice its request to station NATO troops in the country long-term.
Earlier in February, NATO decided to expand its presence in Central and Eastern Europe. US President Obama's budget for 2017 proposed to more than quadruple American spending on military training, exercises and delivery of equipment to member countries around the Russian border, raising it to $3.4 billion.
Russia's security strategy for 2016 lists NATO's expansion toward Russian borders as being one of the main threats. "The principles of equal and indivisible security" are not being respected in the Euro-Atlantic, Eurasian and Asia-Pacific regions, said the document.
READ MORE: Pentagon attacks on Russia linked to military budget debate in Congress – MoD
Tensions between NATO and Russia have intensified since Russia's reunification with Crimea in 2014 and the conflict in eastern Ukraine. Crimea, a predominantly Russian region, seceded from Ukraine in response to a West-backed armed coup in Kiev, in which radical nationalists played a major part, and voted to become part of Russia again in a referendum. The alliance accuses Russia of annexing Crimea through military force and providing support to Ukrainian rebels, who rejected the coup, too.
Over 2015 both Russia and NATO held a number of large-scale military drills, including NATO's biggest airborne military exercises since the end of the Cold War, which were conducted in late August and September. The drills involved about 5,000 soldiers from 11 NATO member states.
Moscow believes that the alliance is using the pretext of confronting Russia to justify the increase of defense spending by member states.
You can share this story on social media: