Iran's moderates on course to defeat hardliners in crucial parliamentary election – early results
Published time: 28 Feb, 2016 08:41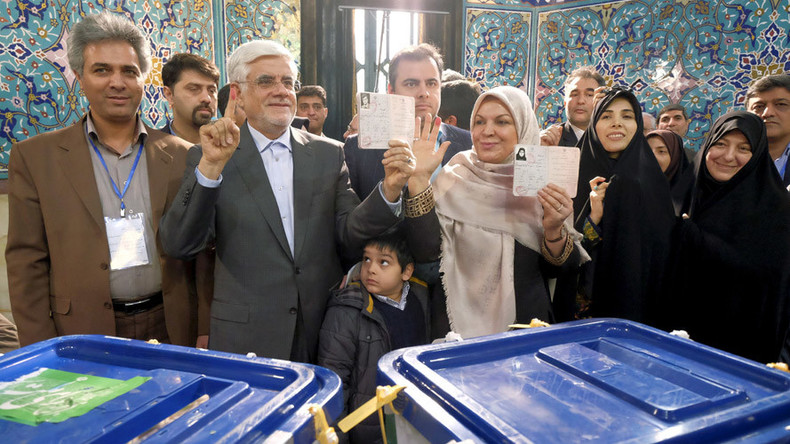 Iranians massively voted for moderate and reformist candidates, who surprisingly won all 30 seats in Tehran, early election results show. The parliamentary victory looks set to bolster President Rouhani's campaign to improve relations with the West.
Although the final results are yet to be announced, preliminary data shows that reformist-backed candidates aligned with President Hassan Rouhani won all 30 parliamentary seats in Tehran. Top conservative candidate Gholamali Haddad Adel was set to lose his seat, Reuters reported.
"The people showed their power once again and gave more credibility and strength to their elected government," Rouhani said.
The moderates' and reformists' electoral gains mean a legislature much friendlier to Houssani's pragmatic course on détente with Western powers that started with the nuclear deal. The 290-seat parliament has been dominated by hardliners, otherwise known as "principlists," who are wary of the reengagement with the West.
At the moment, they hold 65 percent of the outgoing MPs' seats, while the rest is divided between reformists and moderates.
The nationwide election to the parliament and the Assembly of Experts – a council charged with electing and removing the Supreme Leader of Iran – took place Friday, and was marked by an enormous turnout.
Interior Minister Abdolreza Rahmani Fazli told a press conference in Tehran on Saturday that vote counting in Tehran is still under way and will not end any sooner than late Monday, FARS news agency reported. The final results will be declared Tuesday.
He said that over 60 percent of some 54.9 million eligible voters took part in the elections, with over 53,000 polling stations set up for people to vote.
According to the ministry, 6,229 candidates from all three major camps – reformists, principlists and moderates – in total were cleared to compete for the 290-seat legislature, but 729 of them waived their candidacies.
On Friday, voters also went to the polls to elect 88 members of the 5th Assembly of Experts.
The Assembly's next term, lasting until 2024, is very likely to choose the next Supreme Leader of Iran. Because of 76-year-old Ayatollah Ali Khamenei's age, his successor could well be among those elected this week.
Rouhani and his key ally and ex-President Akbar Hashemi Rafsanjani were leading the race for the Assembly of Experts, and appeared to be sure of winning seats, according to Reuters. Rafsanjani was among the founders of the Islamic Republic, and is known for his pragmatism and robust reputation.
The crucial vote will very likely define the face and nature of Iran's political course for years to come, experts say.