From Siberia with love: Silver Oscar cast for DiCaprio after fans donate their jewelry (VIDEO)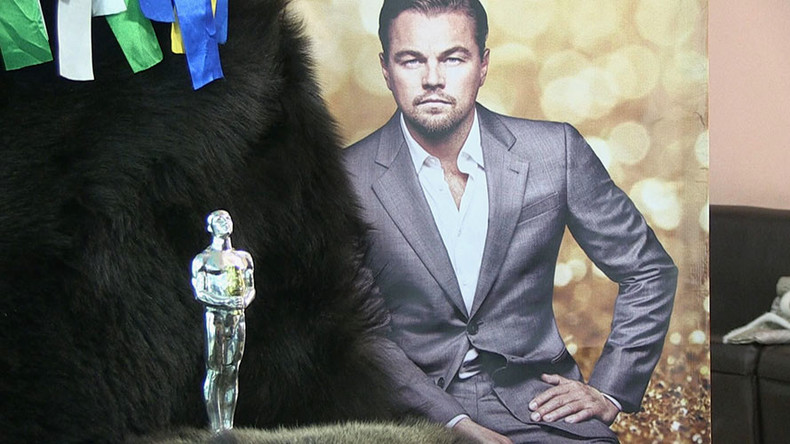 Russian fans of the yet Oscarless Hollywood A-lister have decided to make Leonardo DiCaprio happy with a very special award – an Oscar-like statuette cast from their precious rings and earrings.
A group of predominately female DiCaprio admirers in the city of Yakutsk in Russia's Far East have united in an initiative called "Oscar for Leo!" Yet, keeping in mind that Hollywood's Academy of Motion Picture Arts and Sciences might not share their view on who is most deserving of the Best Actor title – as has happened before – Leo fans decided to act and not wait for the 88th ceremony.
The fans have donated their jewelry, with the most devoted even sacrificing some gold pieces. Local silversmiths melted down the girls' jewelry, before molding and sculpting it to make a silver version of the Oscar trophy.
"During 18 days, at least 144 people participated in the initiative. In total, 1,389 grams of silver and around four grams of gold were donated," the initiative organizer Karina Chiryaeva told RT's Ruptly news agency.
It wasn't clear how the precious trophy would be presented to the actor, as the Siberian city is located near the Arctic Circle.
Meanwhile, in sunny LA, the American actor, who has been an Academy Award nominee several times, is now in the running for the Best Actor title for his performance in The Revenant. DiCaprio is hoping to receive the bronze statue finished in 24-karat gold for the first time at the Annual Academy Awards ceremony this weekend.
This year, the original Oscar statuette got a subtle makeover, after the Academy selected a new company to manufacture the legendary pieces for the first time in three decades. Aiming to add a bit of old school glamour to the award, the 2016 Oscar was inspired by the classic 1920s design. Using some digital age technology and 3D printing, modeling scans of the statuette's traditional form have been fused with modern Oscars.
You can share this story on social media: