Leo's Yakut 'Oscar': Russian women donate silver to make alternative DiCaprio award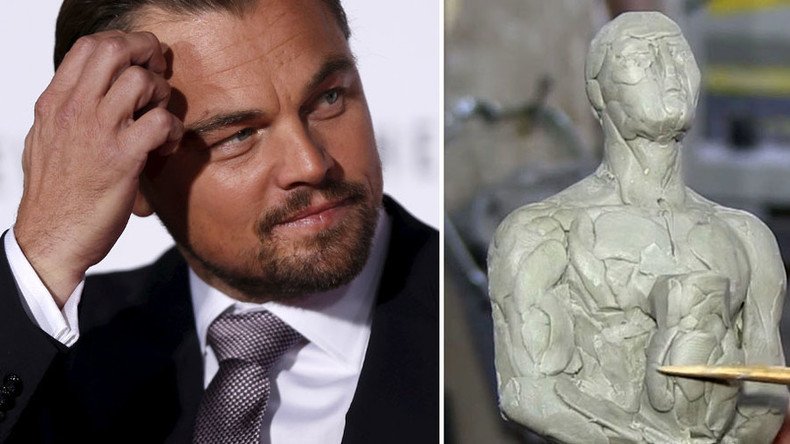 Women from Russia's Far East are donating their silver trinkets to create an alternative Oscar for Leonardo DiCaprio. The Hollywood actor has expressed a desire to play many personalities from Russian history, including Putin, Lenin and Rasputin.
"We have just started fundraising for the statue. The statuette is still in the development stage. According to preliminary calculations, it will take up to 100,000 rubles (about $1,300). Many women have already donated silver for the statue," a teacher from the Arctic State Institute of Culture and Arts in Yakutia Region, Tatiana Egorova, told RIA Novosti.
Many of those who donate their valuables keep half the items for themselves, Egorova told RT. For example if a woman brings earrings, she keeps one of them. Thus she feels closer to the star.
"Like one half will be with Leonardo DiCaprio and one half with them. To be somehow connected with the actor," she said.
Passionate about cinema, Yakut people are ready to establish their own award, she said as cited by RIA.
"Films are made by stokers, street cleaners and teachers in our region. We believe that cinema is a mass art form targeting a wide audience."
However, this award won't be called simply a 'Yakut Oscar': the organizers are thinking about a more interesting, less obvious name. And the project will continue even if DiCaprio gets his first and long-awaited Oscar for the lead role in 'The Revenant'.
The Russian statuette will resemble the copyrighted and patented original of the most-recognized trophy in the world. But instead of holding a crusader's sword, the figure will reflect its indigenous origins, holding the national Yakut vessel dubbed Choron.
Egorova explained that the choice of metal is symbolic. "Silver is our metal," she said.
According to Egorova, the figure will be looking up into the sky - the Yakut symbol of faith and hope.
"Anyone who is looking up into the sky understands his real destiny. We believe that DiCaprio has seen his destiny. He didn't bury his talent and overcame all obstacles in his life," she told RT.
Leonardo DiCaprio's grandmother was Russian and the actor refers to himself as "half Russian."
READ MORE: DiCaprio as Lenin? Russia's oldest film studio Lenfilm ready for 'action'
DiCaprio name has been hitting the headlines since securing an Academy Award nomination in the Best Actor category.
In January, DiCaprio revealed that he would like to star as President Vladimir Putin.
"Putin would be very, very, very interesting. I would like to play him," DiCaprio said. Other personalities from Russian history have also captivated the star's acting spirit.
"I think there should be more films about Russian history because it has many stories worthy of Shakespeare. That is fascinating for an actor," he said. "Lenin also would be an interesting role. I would like also to star as Rasputin."
You can share this story on social media: