Bulldozers to demolish Calais 'Jungle' after all, French court rules
Published time: 26 Feb, 2016 13:00
Edited time: 26 Feb, 2016 15:26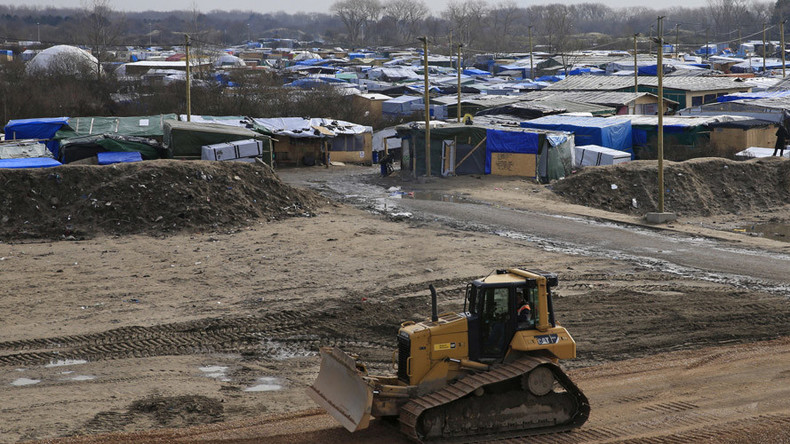 The southern part of a refugee camp in Calais, France, known as 'the Jungle' is expected to be dismantled after a ruling from a court in Lille. Calais Mayor Natacha Bouchart said the evacuation of occupants will take three weeks.
The court demanded on Thursday that refugees resettle from the self-erected refugee camp. The eviction is "carefully arranged and meets a real need," Judge Valerie Quemener was quoted by Monde as saying.
The dismantling will not affect the places of social life, such as mosque, schools, library and youth center, Quemener's verdict read, not specifying deadlines for the evacuation.
Bouchart told BFM-TV that the process might take as long as three weeks.
Migrant associations and watchdogs reacted to the court's decision in different ways. Some were pleased to know that places of social activities were spared, others disappointed that the Jungle wasn't.
"We are devastated to announce that this afternoon the court ruled against us and have upheld the decision to demolish the Southern section of the 'Jungle'," Help Refugees website says. "We will be appealing this decision immediately."
According to a census conducted by the organization, some 3,500 people will be evicted from their current residence, whereas France can only provide about one third of them with places to live.
"Now that the refugees are going to be evicted, we need to know where the French authorities plan on putting them," Help Refugees co-founder Josie Naughton told Newsweek. "I spent a lot of time in camp. These are people fleeing conflict. They want to remain in their home country, but they can't."
Quemener is the same judge who demanded a delay in demolition procedures on Tuesday, hours before the deadline.
Marian Humbersot, volunteer at the 'Jungle,' criticized the decision to demolish the camp, saying that the government is failing to help children who may fall into the hands of traffickers after the eviction.
"They are considered under threat - children! They are dealt with like junk. What is this politics? There is no space. For children there is no space, there is absolutely nothing planned by the state," she said.
"They will fall into the hands of traffickers maybe, they will fall into the hands of any person that will have power over them," she added.
The Jungle is currently home to thousands of refugees, who await their chance to sneak into Britain, known for its high levels of social security.