'Flying Bum': World's largest aircraft receives massive fin ahead of test flight
Published time: 26 Feb, 2016 11:51
Edited time: 26 Feb, 2016 11:52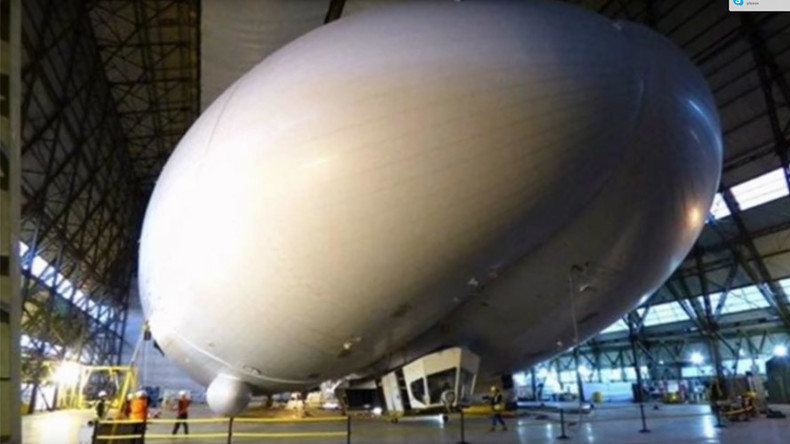 The world's largest airship – nicknamed the 'Flying Bum' due to its unfortunate resemblance to human buttocks – is one step closer to completing a test flight next month after it received the first of two giant fins.
The fin, measuring 9 x 11 meters (29.5 x 36 feet), was attached to the Airlander 10 using a series of cables and clamps.
It's fitting that the craft would need such enormous fins, considering it is the world's largest airship – even bigger than the Airbus A380. Measuring a length of 93 meters (302 feet) and a height of 26 meters (85 feet), it is about the length of a football pitch and the height of six double-decker buses.
The aircraft will undergo a much anticipated test flight next month, once it has received its engines and another fin. A date for the test flight has not been announced, but the vessel will be restricted to a 70-mile (112km) radius.
Nicknamed the 'Flying Bum' due to its resemblance to a human's backside, the vessel was originally designed as a surveillance aircraft by the US Army, but the government later scrapped those plans because it was too costly.
It was then shipped to Britain, where it received private investment cash from celebrities including Richard Branson and Bruce Dickinson, as well as government and EU grants. It is being constructed by Hybrid Air Vehicles, which was originally designing it for the US Army under its US$500 million program.
The aircraft's new aim is to provide business and leisure flights from Cardington in Bedfordshire, UK. It will be able to carry up to 50 people and stay airborne for two weeks at a time.
The vessel, capable of reaching a top speed of 148km/h, is run by four diesel turbocharged engines, but burns a quarter of the fuel used by regular planes. It is made of super-strong carbon fiber and filled with helium to raise it. Future 'greener' versions are set to be fitted with solar panels.
The Airlander 10 can also operate in extreme temperatures, making it a viable candidate for search and rescue operations, environmental observations, and police surveillance.
It has been speculated that the vessel could be the future of air travel, as it emits little pollution and is not noisy enough to disturb people on the ground. In addition, it can take off and land vertically like a helicopter, meaning it does not need a long runway to operate.
Work on the aircraft began three years ago in the UK. The vessel underwent a test run in October, in which it was filled with 1.3 million cubic feet of helium - enough to fill 15 Olympic-sized swimming pools. It previously underwent a test flight in New Jersey when it was still in the hands of the US military, but the October lift-off was the first time the civilian version had left the ground.