Fierce fighting continues in Damascus suburb ahead of Syrian ceasefire (VIDEO)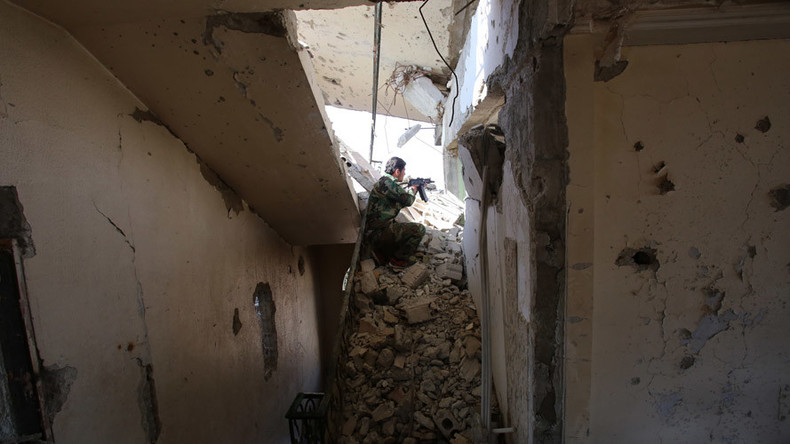 Fierce fighting is ongoing in a Damascus suburb just one day ahead of a scheduled US-Russia brokered ceasefire. The Syrian government says it is determined to continue the battle in Darayya, stating that Jabhat al-Nusra terrorists are fighting there.
The Syrian army began an offensive in the Damascus suburb just a few days ago, stating that the town was almost completely under the control of Jabhat al-Nusra, an Al-Qaeda-linked terrorist group, RT's Lizzie Phelan reported from Darayya.
Despite a Washington-Moscow brokered ceasefire set to come into effect at midnight local time on Friday (22:00 GMT), the Syrian government says it will continue to fight in Darayya because the group is excluded from the agreement.
Although the presence of Jabhat al-Nusra appears to be evidenced by graffiti in the area, opposition supporters say none of the terrorist group's fighters are in the town.
Media reports have highlighted that Jabhat al-Nusra fights alongside an array of anti-government forces. Since being labeled a terrorist group by the UN Security Council, its fighters have reportedly gone underground, hiding among groups considered to be more moderate.
The Syrian army has stressed that the territory it has won over the past few days has pushed rebel fighters back to a distance where they cannot easily attack residents or internally displace them.
The ceasefire deal, which was announced on February 22 by Russian President Vladimir Putin and US President Barack Obama, does not apply to Islamic State (IS, formerly ISIS/ISIL), Jabhat al-Nusra, or "other terrorist organizations designated by the UN Security Council," according to a joint statement.
The Syrian government, the "moderate" opposition rebel fighters, and the Kurds will be required to lay down their arms.
The ceasefire will be monitored by a task force co-chaired by Moscow and Washington, which will "promote compliance and rapidly de-escalate tensions," serve as an arbiter to "resolve allegations of non-compliance," and refer "persistent" truce-breakers to senior officials to "determine appropriate action, including the exclusion of such parties from the arrangements of the cessation of hostilities."
Syria has been the scene of a gruesome civil war since 2011. The conflict has led to the deaths of more than 250,000 people and displaced more than 12 million, according to UN figures.