'Cruel, inhuman and degrading:' Israel's systematic abuse of Palestinian detainees exposed by NGOs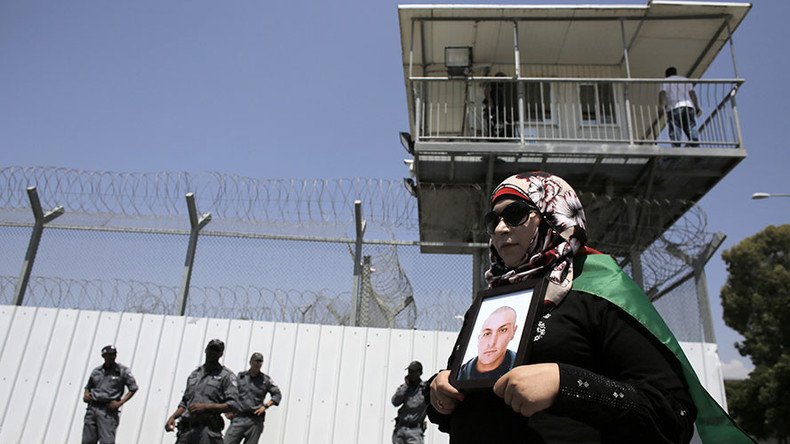 Israel's domestic security agency systematically abuses Palestinians kept at its Shikma detention facility, two NGOs say, adding that "cruel, inhuman and degrading" treatment is inherent to the interrogation policy and dictated from above.
Israeli rights groups B'Tselem and HaMoked released a 70-page report on Wednesday detailing abuses taking place between August 2013 and March 2014 at the Shikma interrogation facility, which is run by the Israel Security Agency (ISA, Shin Bet in Hebrew) in Ashkelon, southern Israel. The report was based on the accounts of at least 116 suspects that had been interrogated at the facility.
It says the conditions at the Shikma facility are "an inherent part of interrogations there: they serve to weaken both mind and body, complementing the actual interrogation of detainees in the interrogation room. The combination of conditions both in and outside the interrogation room constitutes abuse and inhuman, degrading treatment, at times even amounting to torture."
"Systematically implemented, the policy includes violence and degradation during arrest and interrogation; inhuman detention conditions that force detainees to endure crowding and filth; isolation of detainees, subjecting them to extreme sensory, motor, and social deprivation; provision of scant and substandard food; exposure to extremes of heat and cold; prolonged binding to a chair during interrogation, sometimes in exceedingly painful positions; extensive sleep deprivation; threats, swearing, shouting and mocking – and in some cases even direct violence by interrogators," the report said.
Nearly every single detainee had been exposed to some or all of these measures, the study by B'Tselem and HaMoked said, adding that about one-third had been beaten or abused by soldiers or police officers in the course of being arrested, while at least 14 out of the 116 had been interrogated under torture by the Palestinian Authority (PA) shortly before being arrested by Israeli security forces. Some said the questions asked by Israeli agents implied that the PA had shared its information with the Shin Bet.
The report, entitled "Backed by the System: Abuse and Torture at the Shikma Interrogation Facility," said there are unquestionable similarities between Shikma and other facilities.
It stressed that "cruel, inhuman and degrading treatment of Palestinian detainees is inherent to the ISA's interrogation policy, which is dictated from above, not set by interrogators in the field."
A Shin Bet spokesman told AFP that the Palestinians interrogated at Shikma were "terror suspects."
A 1999 ruling by Israel's High Court of Justice (HCJ) found, however, that the Shin Bet had no lawful authority to use physical means that could cause detainees suffering or break their spirit in the course of interrogations.
"The treatment of detainees detailed in this report is not the isolated act of a single soldier, prison guard, or ISA interrogator. Rather, it is part of a systemic policy regarding the interrogation of Palestinians," the Israeli NGOs noted.
Meanwhile the Shin Bet called the data in the report "misleading and distorted," stressing in a statement that during their interrogation the Shin Bet's suspects "receive the full extent of rights they are entitled to under Israeli law and the international conventions to which the State of Israel is a party."
You can share this story on social media: