'Mexican Pompeii' from drone: Lonely cathedral in lava field (VIDEO)
Published time: 24 Feb, 2016 10:28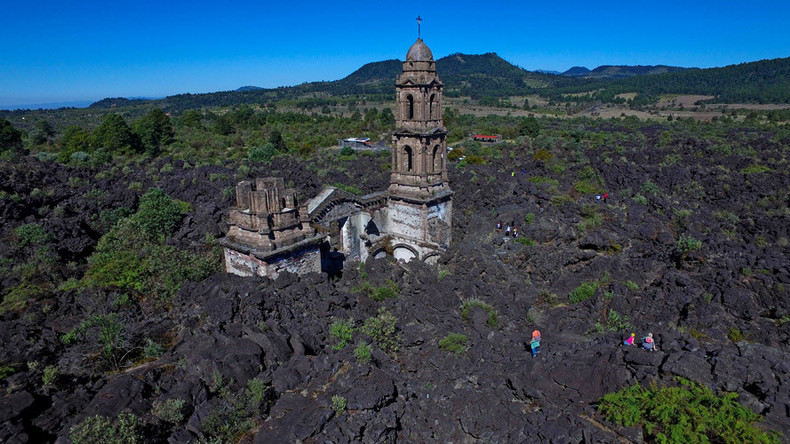 Rare Ruptly footage shows the remains of the village of San Juan Parangaricutiro, in Mexico. Its iconic church is the only construction not covered by the lava flow after an eruption in 1943.
The drone-filmed video reveals the current condition of the cathedral's ruins in San Juan Parangaricutiro, encased in crystallized magma along with the rest of the once lively village.
The volcano began to emerge out of a farmer's cornfield in Paricutin village on February 20, 1943, raising the ground and emitting sulfurous vapors.
"In the evening, when night began to fall, we heard noises like the surge of the sea, and red flames of fire rose into the darkened sky, some rising 800 meters or more into the air, that burst like golden marigolds, and a rain like artificial fire fell to the ground," Celedonio Gutierrez, a resident of the destroyed village, recalled in a verbal history reported by the National Museum of Natural History, Washington.
Lava slowly flooded the valley, completely engulfing Paricutin and, in the coming months, San Juan Parangaricutiro. The volcano continued occasionally erupting during its nine-year life span, turning dormant in 1952. The houses that didn't burn to ashes were encased in magma, including San Juan Parangaricutiro cathedral, the top sections of which stay visible even today.
At least three other towns were heavily affected by the disaster. Hundreds of people have been misplaced and resettled to other locations. Some of them founded a village that later became known as Nuevo San Juan Parangaricutiro.
The farmer, named Dionisio Pulido, whose cornfield Parcutin volcano claimed, kept a sense of humor under the circumstances. "This volcano is owned and operated by Dionisio Pulido," read a sign he placed on his land upon leaving.
The church has become a place of both religious and tourist pilgrimage for many travelers. Some people believe that church withstanding lava flow is an act of God's will. The media called the 2,800-meter-high Paricutin volcano one of the world's "Seven Natural Wonders." It is the youngest volcano in the Western hemisphere.